Senior wide receiver Fred Trevillion ready for expanded role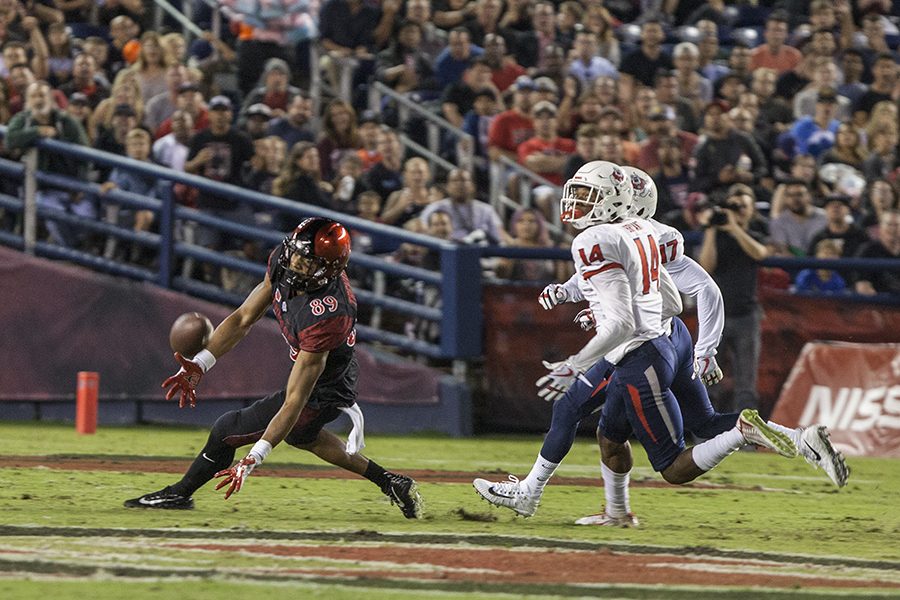 San Diego State football senior wide receiver Fred Trevillion showed the world he could fly during a week seven matchup against Boise State University last season.
SDSU was trailing by 21 points late in the third quarter, and its chances of staging a comeback and preserving an undefeated season appeared bleak.
Then-junior quarterback Christian Chapman took the snap from the Aztecs' own 11-yard line, faked a hand-off to senior running back Rashaad Penny and launched a pass to Trevillion, who found himself streaking down the field behind two Boise defenders.
The pass traveled approximately forty yards through the air before landing neatly in Trevillion's arms at midfield.
The rest, as they say, is history.
Trevillion broke away from a last-gasp tackle from a Boise defender and ran, untouched, into the end zone.
The Aztecs would lose to the Broncos, but the 89-yard throw-and-catch was their longest of the season and gave a glimpse of Trevillion's big-play potential.
SDSU's speedy 6-foot-2-inch, 200-pound receiver ended the year with an FBS-best 27.2 yards-per-catch average, but finished with only 12 catches in 13 games.
This year Trevillion is the lone senior wideout for a team which lost its top receiving threat from a year ago in Mikah Holder (43 catches for 602 yards, both team bests).
Trevillion said he plans to take advantage of the opportunity to lead a young receiving-corps.
"I'm just ready to do whatever I can to help the passing game," Trevillion said. "I'm glad that coaches are putting me in a leader role as a senior, and I accept that challenge and I look forward to making the best of the opportunity."
Head coach Rocky Long said one of the team's greatest areas of concern is going to be the play of the wide receivers. 
"I think on offense the question mark is wide receiver," Long said. "I think that our wide receivers do a great job of blocking for the run, but we've got to get more production out of them in the passing game."
Trevillion has long been a question mark of his own for the Aztecs.
Originally from Brookhaven, Miss., Trevillion took a hiatus from the team following his inaugural season in 2014.
Trevillion played defense on special teams that year, but the next time he stepped on the field was for Southwest Mississippi Community College in 2016.
Trevillion had shifted back to wide receiver, the same position where he twice earned all-state recognition while at Mississippi's Brookhaven High School.
Trevillion returned to the Mesa for his junior year in 2017, and will once again be catching passes from Chapman, who said that he needs someone to take the reigns in the receiving game.
"This year I'm going to need someone to step up," Chapman said. " To be that kind of (Holder) and have the football IQ to take control of the receivers and be that guy."
In other words, Trevillion must once again show that he can fly.