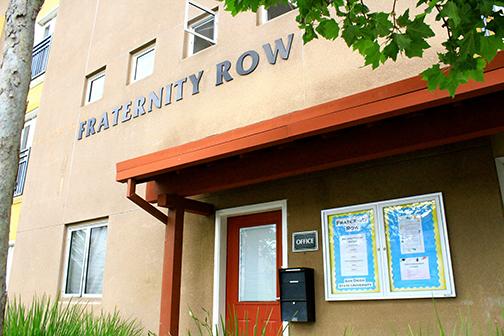 The fraternity party ban that began last semester has been extended at least through October.
Interfraternity Council President Jacob Mahony said doing so will give fraternity chapters more time to complete the educational requirements for ending the social moratorium.
Mahony said the social moratorium, which went into effect in March, was self-imposed by the IFC in response to a national climate that threatened the long-term sustainability of fraternities because of issues like sexual harassment, excessive alcohol and drug consumption, hazing and toxic masculinity.
Caryl Montero-Adams, assistant director of student life and leadership for fraternity and sorority life, said the death of Penn State student Timothy Piazza in February 2017 from an alcohol-related hazing incident sparked the larger national conversation about fraternity behavior.
"That incident, followed by numerous others, really led a variety of institutions or universities to make the decision to place either their entire fraternity and sorority community, their interfraternity council, any combination of organizations of campus on some kind of suspension or moratorium," Montero-Adams said.
Back at home, SDSU was experiencing its own problems relating to fraternities on campus. Six out of the university's 15 chapters are currently facing suspensions or probations.
Mahony said the IFC never intended for there to be a hard deadline for the end of the social moratorium. Instead, he said the council decided it would be best to slow down and put more focus on the educational components of the decision.
In order for the social moratorium to end, Mahony said fraternity chapters must have a certain percentage of their membership attend four kinds of events focused on alcohol and drug use, hazing prevention, toxic masculinity and being a good neighbor.
"After the springtime, we calculated the (attendance numbers) and we're close but we're not there yet," Mahony said. "So, we're taking the month of September and we're planning all four of these types of events again for the fraternities who didn't reach their numbers to reach them now."
He said Oct. 1 would be the goal date for ending the moratorium, but whether this actually happens is dependent on when all the fraternity chapters meet their event attendance requirements.
When it comes to party culture at SDSU and what's generally permitted, things can become murky. Dean of Students, Randy Timm said enforcing rules regarding alcohol at student organization-hosted events requires a lot of defining.
"Sometimes, you have a group of people who are living together and they're watching TV, it's a Friday night and, next thing you know, people are drinking beer, they're watching a football game, that grows and it grows and it becomes larger," Timm said. "These are what I often hear called 'kickbacks,' where they're hanging out and the party grew."
Timm said when it comes to gatherings like this, university involvement looks far different from organized events that follow the guidelines in the Student Organization Handbook.