Dockless bikes hit with vandalism on campus
Some Ofo bikes on campus found a new home up in the trees on Wednesday as part of a recent string of vandalizations.
The dockless bike share company launched its partnership with San Diego State in a pilot program in April 2018 during the university's first annual Bike to Campus Day.
Associated Students Green Love Commissioner Cassie Weinberg said she began hearing reports of students vandalizing bikes on campus as early as when the program was first introduced in April.
"I've seen a video of people throwing an Ofo bike off the parking structure, and now I've been seeing a lot of pictures of the Ofo bikes in trees," Weinberg said. "People are not thinking of the repercussions this has on the campus and students trying to use this as a form of transportation."
Weinberg said she worries the vandalism that has occurred with so many bikes makes the university look bad, especially since Ofo is still in its pilot program at SDSU.
University police spokesperson Raquel Herriott said the task of identifying these cases is not something SDSUPD handles.
"The third party company relies on information from community members to identify vandalized or damaged bikes," Herriott said in an email response.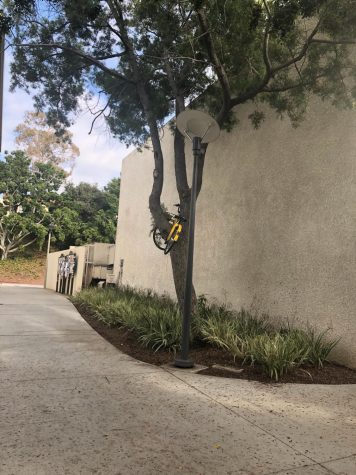 Political science sophomore Madison Wall said vandalizing Ofo bikes is inconsiderate to the students who use the bikes to get around campus.
"I feel like the purpose of the bikes is accessibility," Wall said. "When students throw the bikes in trees or (do) other things that make the bikes inaccessible, it's not only disrespectful to the campus but to students who use those bikes too."
Interdisciplinary studies senior Livil Musil said she frequently use Ofo bikes to travel around campus.
"I understand some people do it for a laugh," Musil said. "But then there are less bikes for everyone to use."
Undeclared freshman Mikayla Schulch said she has never used an Ofo bike because she prefers to use a dockless electric scooter like Bird.
"I'd rather take a Bird because it's easier," Schulch said. "I would take a Bird from (Chapultepec residence hall) all the way to the other side of campus and it was so fast."
Weinberg said the students' need to get between distant locations in the College Area quickly was what brought the Ofo program to SDSU in the first place.
"One of the reasons we wanted to introduce Ofo to campus was because it provided a lot of benefits to students that live further from campus," Weinberg said.
The university has already had to address one issue that has been caused on campus from Ofo bikes. When users we not parking their bikes properly around campus, the university created a point system where users could potentially lose their riding privileges.
"Parking in undesignated locations will result in losing bike share privileges on campus and can result in a administrative citation," according to the SDSU Parking and Transportation website.
Since Ofo was introduced to campus in April 2018, there have been over 40,000 rides and 5,000 new users reported by the bike-sharing company by of the spring 2018 semester.