'The Glaspell Project' tackles sexism
San Diego State's theatre department addressed current issues facing women with its take on the 100-year-old "Glaspell Project," written by Susan Glaspell and directed by Randy Reinholz.
"The Glaspell Project" is made up of two 30 minute performances. The first performance, "Trifles," is a murder mystery and "Woman's Honor" is a satirical comedy. These two performances showcase the treatment and situations women were faced with, some of which are still relevant today.
In "Trifles," a man is murdered and all fingers are pointing to his wife, who is strangely calm about the entire situation. While the investigator and sheriff try to figure out a motive, the women are left in the kitchen to discuss trivial subjects, like sewing and canning fruits. However, unbeknownst to the men, they actually get to the very bottom of the mystery on their own.
In "Woman's Honor," a young man is being interrogated for a crime. If he would just give his alibi, he would be set free. Yet the alibi cannot dare be used because it would damage a woman's honor, since it involves a married woman having an affair. Multiple women catch wind of the story and rush to the police station to say they are the woman for the alibi, but only one was telling the truth.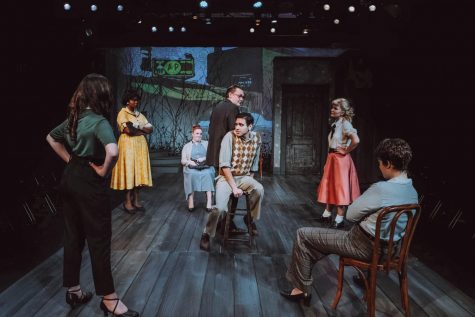 "The Glaspell Project" is directed by Randy Reinholz, a member of SDSU's faculty. He said he hopes these performances encourage discussion on the issues women face.
"There are a lot of things happening today revolving around the treatment and objectification of women," he said. "It is a crucial time for us to have this conversation and get people talking about these issues."
He went on to say that the production is even weightier in the context of SDSU's historic women's studies department, and the reactions to the production from those students and faculty were important to him.
"SDSU has the oldest women's studies program in the United States," the director said. "I wanted to utilize that tool by inviting 120 students and scholars of the program out to our preview night. I wanted their feedback and to see if I was doing right by women and everything they are faced with today. As always, SDSU is an amazing place to work filled with smart, strong women who helped make all of this even more special."
Daria Roland, a sophomore and theatre major, took on the role of "The Shielded One" in "Woman's Honor."
Roland said that, thought the culture has progressed since "The Glaspell Project" was first written, it remains as necessary as ever.
"I truly enjoy how relevant this piece is to so many things going on today regarding women," she said. "We have come such a long way since the play was written in 1918, but there are still parts of this piece that women continue to deal with daily. We can never stop progressing."
She also echoed some of Reinholz sentiments regarding the production's assessment of sexism, and hopes that it can influence audiences to be more aware of the problematic ways in which women are treated.
"Pieces like 'The Glaspell Project' are great conversational pieces we need to continue to address these issues," Roland said. "When we put on pieces like this we are always striving to inspire others to be better people and become better people ourselves."
Performances for "The Glaspell Project" are scheduled for Thursdays, Fridays, and Saturdays at 7:30 p.m. and Sundays at 2 p.m. in SDSU's Experimental Theatre. It opened Sept. 28 and is running through Oct. 7. Each one-act play is roughly 30 minutes long. Tickets are $20 for general admission and $17 for students, seniors and military.