Aztecs fail to tame Huskies in 2-1 home loss
San Diego State men's soccer fell short during a 2-1 loss against the University of Washington on Sunday afternoon at the SDSU Sports Deck.
The loss ended the Aztecs five-game home winning streak.
Senior forward Damian German said the result was just a matter of bad luck.
"I just think this game we were a little unlucky," he said. "I don't think we were the bad team. I think we fought well and are the better team, things just didn't go our way."
The game was scoreless in the first half, but things picked up in the second after Washington's Blake Bodily scored an off-the-post goal.
The Aztecs (5-5-1, 1-3) responded quickly, and were able to get on the scoreboard less than 10 minutes later. German worked his way to the goal and found junior midfielder Pablo Pelaez, who capitalized and tied up the game.
German said it felt nice to contribute to a goal.
"It's exciting," he said. "You put in the hard work, you do things in practice and for it to come out in the field is the biggest accomplishment."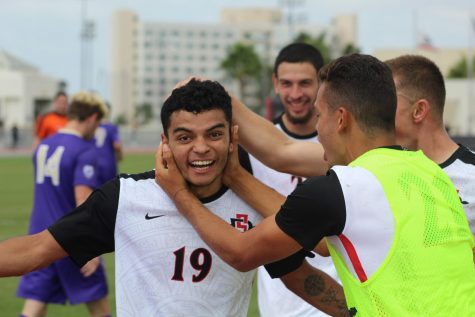 Pelaez said it is important to be at the right spot at the right time.
"Positioning is a big component to getting goals," he said. "When you have players like Damian that create chances for me to just be at the right spot and finish the goal, it's very important."
The Huskies (6-5, 1-2) wasted no time, and re-took the lead after Washington's Dylan Teves scored on a breakaway after beating SDSU's goalkeeper Max Watkin 1-on-1.
Tensions started to rise and a yellow card was called on head coach Lev Kirshner.
"When you look at stats and there's nine cards in a game and there's almost 40 fouls, then it was not easy to officiate this game," Kirshner said. "Especially when there's a lot of disagreements going on from both sides."