Indie band Sure Sure to return to House of Blues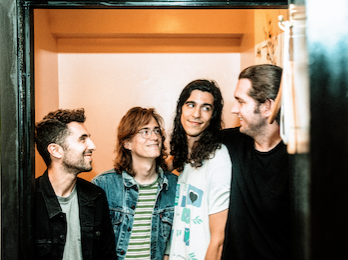 If there is one thing Sure Sure is absolutely positive about, it is that they are ready to play at San Diego's House of Blues on Oct. 13.
The show will be the band's second appearance at the venue this year, after performing there back in January. Sure Sure are currently touring in support of their eponymous debut album, which came out around the same time.
The indie act's sound is one with plucky piano chords, groovy rhythms and guitar licks that are a one-way ticket to bright and sunny southern California, where the band recorded the album. Their songs come packed with a blanket of optimism, that could reassure anyone that everything is going to be just fine.
The band plays straightforward, honest music, and are not afraid to express themselves, like when guitarist Charlie Glick jams with effects on the song "Koreatown." The last song of the album, "Information Machine," is a stripped-down performance, with the acoustic stylings of a ukulele, synths plugging away in the background, and the soft harmony giving listeners a perfect send-off for an album full of variety.
Reflecting on their previous appearance at the House of Blues, keyboardist and singer Chris Beachy emphasized how the band hopes their performance is an improvement upon the last time they played there. An incorrect note he played on his keyboard during one of the band's songs scarred Beachy and made him determined to make a better impression this time around.
"I was planning to play an A sharp instead of an A in the intro of 'Friends,'" Beachy said. "I should have never played the A that last time in SD. It was a truly bung note that was wholly inappropriate and not something I want the audience to hear again. I think I speak for all of us in saying that we are coming back to the House of Blues to right our wrongs and not make the same mistakes we made last time."
Beachy also made note that the band wanted to play new, unreleased music to make it worthwhile for those who saw the band back in January, in addition to their fan favorites.
Having played a show in San Diego previously, the band knows what to expect from the crowd. Beachy said he and the band enjoy San Diego's crowd for its calm but charismatic demeanor.
"San Diego crowds are especially lit and chill at the same time," he said. "The last time we played HOB everyone was so energetic and genuine and into the music, it was really awesome."
Energetic and genuine coincidentally are two perfect words to describe the music that Sure Sure makes. Opening their album with "Giant," a modern day love song with honest and quirky lyrics, like "Just come over baby, I'll get you off."
This song as well as "Friends" and new single "Lie Lie Lie" have gotten support from big radio stations like Sirius XM and KCRW, as well as stamps of approval from bands like Grizzly Bear and Vampire Weekend.
"It really means a lot to have our music be supported the way it has been recently," he said. "A friend of mine recently heard one of our songs in an airport in Vermont."
One of the biggest moments on Sure Sure's album comes from a song that's not even theirs. Revitalizing a classic love song, "This Must Be the Place" is a cover of a song by one of the band's biggest influences, Talking Heads, and it fits in with their repertoire perfectly.
"The song is such a crowd favorite that we felt like we should put it on our album," Beachy said.  
Among Talking Heads, other influences for the band's sound include Nick Drake, Radiohead, Fleet Foxes, the Beatles, Feist and Andy Shauf.
Beachy has found the traveling that comes with touring rewarding.
"(Touring) has been a mind-blowing experience," he said. "It feels like we are a crew of merchant-pirates who sail the nation in our Ford Transit and hawk our wares — mostly t-shirts — in exotic cities."
Sure Sure's show at the House of Blues Oct. 13 is certain to be a memorable one.