Tucked away behind the Valley View Casino Center, surf rock band The Growlers seized the night at Soma on Wednesday, Oct. 17. The California natives danced on the skeleton-embellished stage decked out in matching star-studded jumpsuits.  
Soma filled up with pink-haired, eyeliner-wearing audience members who were ready to jam out all night to the band's 1960s psychedelic rock sound. The band began the night with songs "Dope on a Rope" and "Heaven in Hell," immediately giving off their dark, seductive ambience.
"Over and over and over again / 'Till you can no longer pretend you are sane / Try but you couldn't get any more sure / And the ending still will never change," Neilson belted out the lyrics from the song "Night Ride," a glimpse into The Growlers' fiery, disco beach-rock.
The band is famous for creating its own music festival, Beach Goth, which is known for its celebrations of music and art while promoting individuality. Through this festival, The Growlers validate their often present theme that any negative comments thrown the band's way do not deter the members from staying true to themselves.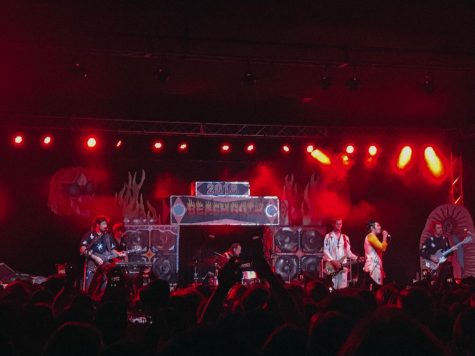 "Beach goth," a term coined by The Growlers, is a southern California rock music genre inspired by the band's eclectic sound.
Brooks Nielsen, the band's frontman, is the glue that binds the anomalous group together. His raspy voice and euphonic melodies embody The Growlers' distinct sound. As he swayed on stage singing "When You Were Made," a fan favorite, the crowd swayed, yelling the lyrics in complete bliss.
"Most of my group are pretty new to them, so we didn't know what to expect live," electrical engineering senior Brian Lyle said. "We were insanely impressed by how they all, especially Brooks Nielsen, sound even better than recordings. Not to mention the whole beach goth vibe fit the venue, Soma, very well."
The setlist included songs from their albums "City Club," "Chinese Fountain," "Hung at Heart" and their newest record "Casual Acquaintances."  
The band concluded the evening with one of its most well-known songs: "Going Gets Tough," a reggae-inspired tune that closed the night with one large, beach goth dance party. Neilson serenaded the audience one last time, singing, "Still always remembering / When the going gets tough / That the labor of our love / Will reward us soon enough."
Management information systems senior Lucas Baiocchi praised the band for its live sound.
"I was stoked to find out they sounded the same, if not better live," he said.
While The Growlers have yet to break into the mainstream, their fans maintain a significant level of dedication and obsession for the band.
Its dark, twisted lyrics and goth aesthetic are not features that align well with Top 40 pop music, but it still managed to create a cult of fans who will support just about any venture the band decides to embark on.