College of Arts and Letters holds discussion forum on Kavanaugh confirmation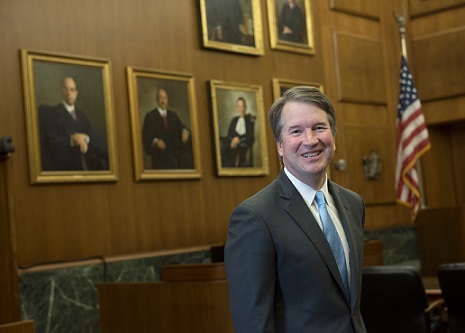 San Diego State's College of Arts and Letters held an event on Oct. 18 to discuss the confirmation of Supreme Court Justice Brett Kavanaugh.
Nearly every news media outlet broadcasted the testimony of Palo Alto University Professor Christine Blasey-Ford against Kavanaugh, who had accused him of sexual harassment while they were both in high school in Maryland.
Despite Blasey-Ford's testimony, Kavanaugh was ultimately confirmed by the U.S. Senate, making him the second justice appointed during the Trump administration. But his confirmation has sparked a national debate on sexual assault, something SDSU officials say they are taking seriously due to an increase of sexual assault reportings on campus.
"Since the beginning of this fall semester, there has been a 52 percent increase in the number of SDSU students reporting sexual assault," Counseling and Psychological Services representative Michelle Feinberg said during the event.
The event was aimed at not only highlighting sexual assault survivor resources on campus, but to address students' concerns on the implications of the hearing's results.
Women's studies professor Dr. Doreen Mattingly broke down the testimony hearings, analyzing the differences in composure between Blasey-Ford and Kavanaugh.
"(Blasey-Ford) was earnest and doing everything she could to control her display of emotions – whether it was holding back tears or other feelings," Mattingly said. "(Kavanaugh), on the other hand, had a free reign to express or overexpress … emotions of anger, of rage really, of crying, that he had a much broader emotional range."
Mattingly added the lack of emotional display by Blasey-Ford highlighted a cultural norm of men being able to more freely express their emotions.
"Who gets to be angry? Who gets to express emotions in public? And what are the consequences for people with different kinds of bodies with different kinds of identities when they do express emotions in public," Mattingly said.
Associate professor in the SDSU Communications Department Luke Winslow explained how power and privilege could have potentially influenced the hearings.
"When you're a rich, white, powerful, cisgender, straight male you have been socialized to think that the world owes you something," Winslow said. "You do what you want and then your dad and your coach and your lawyers and your henchmen they clean up behind you. You do what you want and you let other people take care of your consequences."
Music and communications senior Sam Nguyen was disappointed in the lack of male attendance in the audience.
"As a cisgender man, I think it's tragic how few men there were in that room. And I think that in a lot of ways the people who needed to hear this or needed to talk about this stuff, weren't in there," Nguyen said.
Talia Kieu, a junior year public health student, spoke about the optimism she felt after attending the event.
"After leaving that event I feel hopeful. It's always a cycle of angry, hopeful, then action. And now that I'm feeling hopeful I just want to act more," Kieu said.