Campus hosts congressional candidates at student forum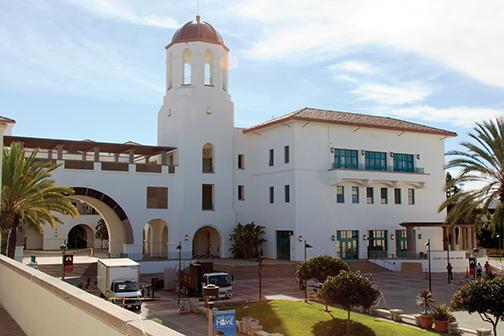 With midterm elections fast approaching, Associated Students gave San Diego State students an opportunity to meet congressional campaigns and get their questions answered on Oct. 23 in the student union.
The candidates present included Congresswoman Susan Davis, Republican House of Representatives candidate Morgan Murtaugh, Republican House candidate Omar Qurdat and a representative for Congressman Scott Peters, who could not physically appear at the event.
Education reform, one of the more important issues for Davis, was something she preached heavily to students.
"You end up paying incredible amounts of money for your education and the debt carries with you," Davis said. "Maybe housing is not available. I understand some people even deter getting married because they're having to work and go to school and pay off those debts."
Murtaugh, who at the age of 26 is the youngest candidate for Congress in the country, said it is important that young people are involved with politics and understand the issues.
"It was only three years ago that I was in your exact position," Murtaugh said. "I graduated from college in 2015 and I'm the youngest woman in the nation running for Congress. It excites me to see how many people are starting to get involved in our generation because we are the net generation of leadership."
In talking about her policy perspectives, Murtaugh said many people are pleased to find she sits at the liberal end of the conservative agenda.
"People are pleasantly surprised by my candidacy and the fact that a Republican who supports gay marriage, and always has, who believes that marijuana should be removed from the list of Schedule 1 drugs and who is a total environmentalist hippie who believes that essential oils are the only essential medicine that I need in my life," Murtaugh said.
Following Murtaugh, Republican Qudrat said he feels no obligation to always stand with the government.
"I don't believe in the government," Qudrat said. "I believe in the people."
Preaching libertarian values, Qudrat explained that true freedom means not having to think about the government in people's everyday lives.
"I don't believe that the government should be getting involved in every choice that we have," Qudrat said. "When I say freedom, I mean freedom from the government too."
Congressman Scott Peters sent a representative to speak on his behalf, Cody Vierra, as he had a pre-existing commitment to speak at another event in Carmel Valley.
The representative also centered her speech around something many SDSU students relate to – student loans.
"I want to emphasize Congressman Peters has always been supportive of students," the representative said. "He himself is a product of student loans and, if he didn't have access to those when he was going to college, he wouldn't be where he is today."
When it comes to student loan reform, the representative said Peters has an impressive track record.
"Congressman Peters has actually passed legislation (regarding student loans)," the representative said. "He has passed a law to reduce them and introduced a new bill to reduced rates even further because he believes that it is wrong for the government to make a profit off of the backs of students and he has gone through that himself as well."
Business administration junior Tatiana Daaboul said the event helped her decide who she wanted to vote for when Nov. 6 comes around.
"I honestly had no idea who I wanted to vote for at first because I wasn't educated on the candidates," Daaboul said. "But, this (event) really helped me make up my mind."
Congresswoman Susan Davis said above all else, young voters need to go out and make the time to vote.
"We know mostly people that are older vote, they have a long history of voting and they're gonna be sure that they vote," Davis said. "Those numbers often overwhelm the numbers of people who don't have a history of voting."