'Más' explores cultural identity, based on true events
San Diego State's production of "Más" tackles many difficult topics regarding the real life dismantling of Tucson Unified School District's Mexican American Studies program, also known as "Más."
The production is a docudrama written by Playwright Milta Ortiz and directed by Peter Cirino. "Más" follows the lives of the students, educators and politicians involved in the 2010 Arizona House Bill 2281, which effectively banned the MAS program.
The MAS program, or Mexican American Studies Department program, was created in the late 1990s to provide students with learning material regarding their cultures, taught in a space that fostered a community based on shared experiences.
The story of "Más" is brought to life in an abstract sweat lodge where dancers represent the Mexican deities of life's natural forces and featured many pieces of personally intimate poetry. However, for the cast, this wasn't any normal story.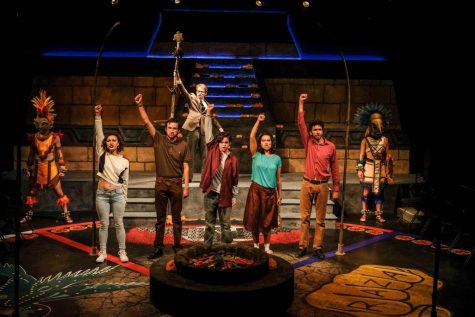 Kennedy Jean Garcia, a theatre performance senior, took on the role of Flor.
"'Más' is not just a story, and I was not just a character," she said. "Flor was a real person who lived through this. This was her life, her friends and her truth. I researched and researched to make sure I was accurately portraying who she is and her life. I approached my character with education so I could give the (most accurate) performance possible."
However, "Más" is filled with some very heavy themes that can overwhelm the audience at some points, according to Garcia.
"During such a divisive political climate, it is important to have productions like 'Más,'" she said. "People don't reach across cultures to try and understand them, but pieces like 'Más' can do that. 'Más' deals with dehumanization of a race because of a lack of education. There's violence, sexual assault and conflict, at what cost? Theatre isn't supposed to be good feelings all the time, but something that will give you new thoughts and perspective on something that is really important."
Marissa Rodriguez, a theatre performance sophomore, portrays the character of Jen, which according to her, turned out to be a difficult role to take on.
"Jen was a challenge for me, she is a real persona and has had to go through so much more than I have in my personal life," Rodriguez said. "I researched her life as much as I could so I could shape her in the best way possible. My time portraying Jen has hit me hard. It is a heavy role. What Jen and the other characters went through in real life is so important, and we are just here to share their truth and acknowledge everything they went through."
Jonathan Esquer, a fifth-year theatre communications major, portrayed the character Poder.
"Taking on this role was really interesting," he said. "Someone lived through this, and it is both an honor and fear to tell their story. I wanted to do him justice, and as actors, we all only hope to portray our characters as best as possible."
SDSU theatre alums Stephanie Kwik and Alexis Park were very moved by the performance of "Más".
"I was so struck by the complexity of the performance," Kwik said. "The different voices, different perspectives and different reactions of each character on such a major life event was so interesting to see."
For Park, the performance of "Más" was its own experience in its entirety and the interwoven narratives were compelling.
"Más" ran from Nov. 2 to 11, and the next SDSU theater production will be "R + J," a "Romeo and Juliet" adaptation, in February.