Aztecs set to face Hawaii in final home game of year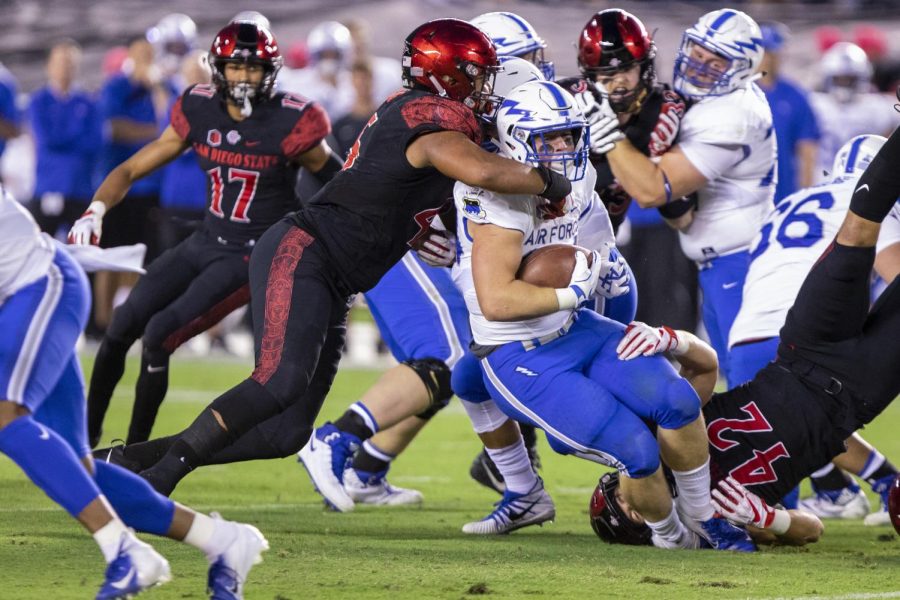 San Diego State football will play its last home game when Hawaii visits on Nov. 24 at SDCCU Stadium.
The Aztecs are coming off a 23-14 loss to Fresno State last Saturday that eliminated SDSU from contention for a Mountain West Conference Championship.
SDSU now shift its focus to finishing off the season against Hawaii.
The Rainbow Warriors (7-5, 4-3 Mountain West) started off the season 6-1 but have lost four of their last five games.
SDSU head coach Rocky Long said the Aztecs' season has gone similarly to the Rainbow Warriors, with the teams both winning and losing close games.
"The teams are very similar. I think they started off hot like we did. I mean, after the first game of the year, we got to where we could win some games," Long said. "All of their wins except for one were fairly close games. Then they got into some tight games where the other team was just a little bit better than they were or the other team made the play at the right time."
A major difference between the teams is that Hawaii is a pass-first offense as opposed to SDSU's run-first style.
The Rainbow Warriors rank 13th in the nation, averaging 310 passing yards per game. They average 32 points per game and 428 yards of total offense.
Long said Hawaii has a high-powered offense fueled by its air attack.
"(Hawaii) throws it. I mean, they throw it and throw it and throw it and they catch most of them and they run with it and they score a lot of points ," Long said. "They don't win them all, but they seem to be all high-scoring games."
Hawaii's air attack is powered by two quarterbacks: sophomore starter Cole McDonald and freshman backup Chevan Cordeiro.
McDonald was benched after struggling against UNLV last week, but Cordeiro came in and lit up the Rebels' defense with three fourth-quarter touchdowns.
Long said there is uncertainty which quarterback the Aztecs will primarily face.
"The only question we have is which quarterback might play," Long said. "They're not going to change the offense, but it'll be interesting to see which quarterback starts."
Just like Hawaii, the Aztecs are facing a quarterback conundrum.
Quarterback Christian Chapman will start, while Ryan Agnew will come in the second quarter. By halftime, the coaching staff will make a decision on who will start the second half.
This has been the routine at quarterback ever since Chapman's return from injury against New Mexico on Nov. 3.
Offensively, the Aztecs' run game looks to take advantage of Hawaii's unfamiliarity against running teams this season.
The Rainbow Warriors are allowing an average of 206 yards rushing per game.  
Long said aside from Army, the Rainbow Warriors have faced all passing offenses.
"Other than playing Army, which is a triple-option team, they haven't played any running teams. It's hard for a defense to get ready for a running team, so hopefully we'll be able to run the ball," Long said. "For us to have a chance to win, we've got to run the football and keep it away from them."
Senior defensive end Anthony Luke said the seniors will lay it all out there on the field for the last home game.
"We expect our whole team to give everything they've got for us," Luke said. "We're just going to give everything we've got for our last home game at our Aztec stadium."