Baseball brings out brooms after 10-8 win over San José State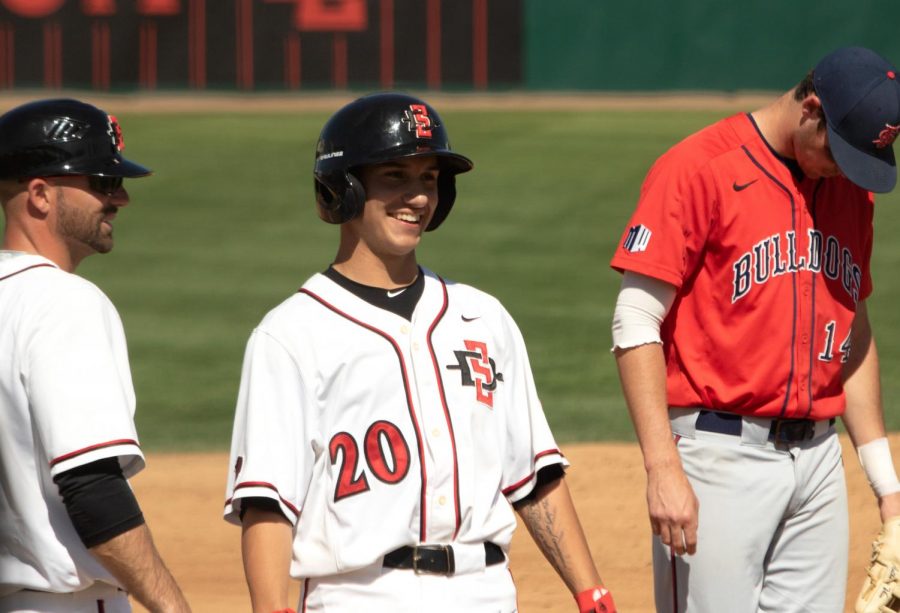 A seven-run fourth inning and a three-run sixth inning helped propel San Diego State baseball to a 10-8 series-sweeping win over San José State on May 5 at Tony Gwynn Stadium.
The Aztecs (27-19,12-9 MW) scored three runs in the fourth inning after a fielding error by Spartans (19-27,12-10 MW) junior center fielder Anders Davidson after the Aztecs had the bases loaded with two outs and were down 3-1. Junior center fielder Julian Escobedo and sophomore third baseman/pitcher Casey Schmitt delivered RBI hits to put the Aztecs up 7-3 in their seven-run fourth inning.
After SJSU scored two runs on RBIs from senior designated hitter Blake Berry and sophomore right field Connor Konishi in the fifth inning, Schmitt, freshman first baseman Jaden Fein and senior shortstop Angelo Armenta all delivered an RBI a piece to give the Aztecs a 10-5 lead.
Head coach Mark Martinez said the offense still has to produce more despite a 10-run outing.
"We had some breaks – a misplayed fly ball kind of relaxed us a little bit,'' Martinez said. ''We did a good job. We obviously still have to continue to grow as an offense and put together some hits.''
Schmitt, who led the team with three RBIs, took over on the mound in the ninth inning and earned a two-out save.
The save was the eighth of the season for Schmitt, and he said throwing strikes is a key part of his success.
"I just make sure I pound (the strike zone) and make quality pitches and let them get themselves out. That's what I just live by," he said.
Freshman Aaron Eden lasted seven innings and allowed eight runs on seven hits before he was replaced with sophomore Christian Winston in the eighth inning. Eden also earned his fourth win of the year.
Eden said his teammates were able to help him pitch deep into the ballgame.
"It was a rough one. I've got to do better. I did an okay job of trying to keep up is the game, but it has to be better," Eden said. "My defense really helped me in getting outs."
SDSU now sits two-and-a-half games ahead of SJSU for second place in the Mountain West standings with only two weeks left in the season after the series sweep.
Schmitt said the sweep puts the team in a good position to contend for the MW championship.
"(The sweep) was really good for us and big for us in the conference, so that's going to really help us," Schmitt said.
Much of the attention for the Aztecs' remaining schedule is shifted towards a three-game road series against first place Fresno State that begins on May 10.
Martinez said the team will look to be well rested for the weekend series against the Bulldogs that could determine the MW regular season title.
"We've got a huge series against Fresno State next week, so hopefully we can continue to get healthy and add to our arsenal heading up to Fresno," Martinez said. "You gotta love it being in this position."