Fund created by SDSU alumna, employee supports students troubled by cancer
Kaitlyn Little and Naeilah Odom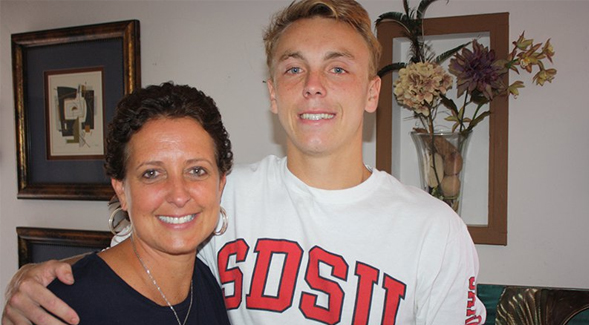 On Sept. 1, 2017, Tammy Blackburn was diagnosed with stage three breast cancer. She went into remission less than a year later, but this would be cut short in March 2019 when she was diagnosed with stage four metastatic breast cancer ⁠— it had spread to her spine.
She has a long history with San Diego State, as a double alumna and the current director of Development Technology for SDSU Alumni, and her experience has inspired her to give back to the university.
With this came the Wallace, Shatsky, Blackburn, Courage Through Cancer Fund for students at SDSU whose education may be affected by a cancer diagnosis. She said the mission of the fund is to give these students financial support, a passion inspired by her days spent in the cancer center.
"I saw people who didn't have family members with them and I saw people who had to take public transportation to get there (and) people who just struggled to even pay for their medicine," Blackburn said.
Blackburn announced the fund in August 2018, named after the two UC San Diego Health doctors who inspired it, Dr. Anne M. Wallace and Dr. Rebecca A. Shatsky, according to the SDSU crowdfunding webpage.
Just a few weeks after the campaign's launch, the fund was able to give an award to its first student. The fund has since helped seven students and continues to grow.
Despite her current diagnosis, Blackburn has stayed dedicated to the cause.
"I'm scared and it's hard and I'm in pain, but I will not stop focusing on bringing awareness to anybody who wants to understand that there are people, students at San Diego State, who have to live the way that I'm living and they just need a little help," Blackburn said.
Depending on a student's situation, the fund can help cover a student's tuition, meal plan and housing. Anybody can apply to be considered who has experienced a personal diagnosis or one within their immediate family. The Economic Crisis Response Team website has a link that students fill out about their specific needs and, once completed, someone from the team connects them to specific resources.
"I don't want that student to experience personal pain and anguish because of cancer," Blackburn said. "I want to keep students on track to graduate. It's very important that we allow them to finish what they began."
Blackburn said she wants to specifically do two things with the fund: continue to grow the endowment and continue to award students throughout the school year.
The endowment allows for the fund to continue servicing students long into the future. The goal is for students who are affected to be able to graduate, and Blackburn said three recipients of the fund were able to graduate last May.
"That's the ultimate goal and I got to be at the graduation and see them and that was a really a very personal experience for me," Blackburn said. "It is the reason why the fund is there."
Chemistry senior Diego Perez is one of the recipients of this fund.
When his brother was diagnosed with leukemia, he said he was able to talk to the financial aid office where the employees connected him with Blackburn.
"I mentioned that my brother was sick, so it was kind of getting harder for my dad to help toss some money over every now and then," Perez said.
He said he could not overlook Blackburn's perseverance and commitment to this cause.
"Tammy is one of the nicest, most genuine people I've ever met and that's the kind of people I want to surround myself with in my life," Perez said. "For her to be able to go through what she's going through and has gone through and still think about other people is just really incredible to me."
Anyone can help to donate to this fund, and Blackburn said she would like to see more students supporting the cause. On Sept. 25, there will be a fundraiser held at the SDSU bookstore.
"You don't have to be an alum to donate," Blackburn said. "You don't have to have a lot of money. You can have $5 dollars or $10 dollars and participate. Last year, our students participated in it in an event that was a fundraiser for this fund and raised about $7,000 dollars in just a couple hours."
To donate to the Courage Through Cancer Student Success Fund, visit the crowdfunding website.