"Lying with Badgers" has students reflecting on family and culture
Students tackle an emotional story of healing within one's self, family and culture in the play "Lying with Badgers." 
San Diego State's school of Theatre, Television and Film opened the play in the Experimental Theatre on Friday, Nov. 1. 
The play is focused on the lives of Native Blackfeet tribe members. "Lying with Badgers" is written by Blackfeet playwright Jason Grasl and directed by Randy Reinholz. 
"It is my first opportunity to work on a show by a Native American in my 22-year history at SDSU, and I'm excited to learn more about people in our country that are often left out of the narrative in popular culture," Reinholz told Arts Alive. 
"Lying with Badgers" features two wisecracking and sassy puppet badgers,  operated by theater arts senior Kate Coughlin and theatre art senior Sarah Enos. Coughlin said the puppet badgers fulfill the role of spirit guides for the main character, Russell. 
"When they aren't too busy teasing him like the little gremlins they are, they are assisting The Creator in leading Russell to fulfill his destiny and find his inner peace," Coughlin said. "We help provide background information, but we also function as comedic relief for the audience."
Couglin said the badgers have become caricatures of both her and Enos' personalities, and they will definitely miss them after the show concludes. 
"I was set on wanting to do puppetry for this show," Coughlin said. "It's been an entirely new avenue of creative expression, and especially with this being a brand new show, we got to mold the characters from scratch. Being able to use my quirky, crazy energy and utilize it to help tell a critical story like this has been an immense honor."
"Lying with Badgers" features a well rounded group of characters to shape the story. Russell, played by theatre arts senior Robert Delpino, and Russell's brother Asher, played by theatre arts junior Kaivan Ameen, are the sons of the Blackfeet Medicine Man who has recently passed away. Asher's girlfriend, Maggie, is played by theatre performance junior Auva Abedini. 
Abedini, takes on the role of a strong willed Blackfeet woman. In the play, she is studying to work with animals. Many times we see her stand up for what she believes in and uphold her sense of independence. 
"Family is so important to Maggie, and she's looking forward to starting her own with Asher," Abedini said. "It is important to her that they keep their culture alive and strong while also following her dreams. The very meaning of the title of the show, 'Lying with Badgers,' is that no matter how far you go or how much you change, where you came from and who you are will always lie within you and your identity."
In the play, the characters Asher and Maggie attempt to educate the public and protect their land from interference from big oil companies. They invite Tara, a movie star played by theatre arts junior Isabella Mangione, and Crystal, a monetary investor played by theatre performance senior Annie Klups, to their lodge to show them the current way of life of the Blackfeet people.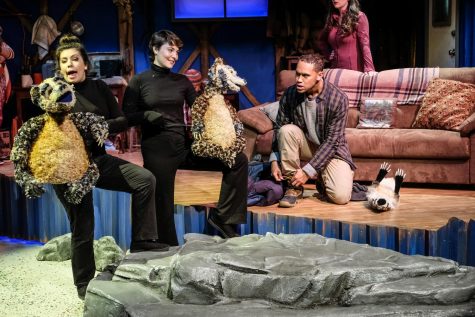 Klups said explained that her character is a typical "white savior" that is guilty of having erased Native culture for years.
"I think my character holds up a mirror to many people in the audience, and makes them examine how they may act towards indigenous cultures," said Klups. "For years, indigenous people have been told what's good for them. My character of Crystal represents this exact issue, and I think she teaches a very important lesson through her story in the show."
This production is a collaboration with the Los Angeles theatre company, Native Voices at the Autry. Director Reinholz is an enrolled member of the Choctaw Nation of Oklahoma, and is the Director and Co-Founder of Native Voices. Native Voices is devoted to producing new Native American, Alaska Native and First Nations playwrights, and to championing Native theatre artists nationally. 
"Lying with Badger" brings a great opportunity to students. Native Voices will be producing "Lying with Badgers" in March of 2020. Some students and faculty involved in SDSU's production will be credited in the LA version, and some will get to travel with the show. 
"Lying with Badgers" will run through Nov. 10. Tickets are $20 general admission, and $17 for seniors, military and students.