Vegetarians have reason to be thankful, too
by Staff
November 19, 2008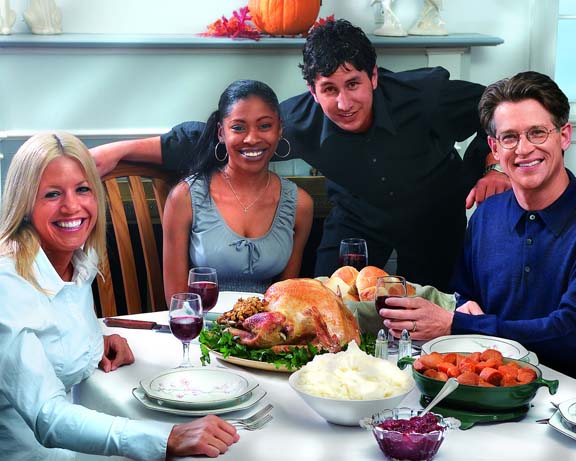 Liquid Library
As we approach the end of November, despite the apparent lack of seasons in San Diego, there is a definite switch in mentality as fall has finally settled in. The weather is crisp, people don coats and scarves, and there is an air of seriousness as everyone buckles down to prepare for finals.
One sure place to find refuge is the warm, relaxed and often quirky holiday, Thanksgiving. It is the one time of year you can find solace from the frosty environment by removing your burdensome winter garb, sharing stories new and old, and outlandishly feasting with the crazy group that loves you unconditionally: your family.
Be it the flock of red sweaters waiting to greet you at the front door, the fresh lipstick that edges dangerously close to staining your cheeks or your alcoholic Uncle Larry who violates your personal space, family holidays undoubtedly yield an array of awkward moments.
On top of tricky family situations, vegetarians and vegans often have an additional set of uncomfortable worries on the traditional turkey-feasting day. Whether you are a seasoned vegetarian or this is your first holiday sans meat, family members are known to bombard you with the sentiment that you will not have enough to eat.
This could not be farther from the truth. Thanksgiving and vegetarianism go hand in hand.
Aside from the turkey, which is obviously off limits to the average herbivore, almost all other dishes present are, or can be made vegetarian or vegan. Think of your favorite Thanksgiving fare 8212; sweet potatoes, green beans, cranberries, salads, soups, squash, biscuits, stuffing and of course pumpkin pie.
Recipes that call for meat-based broths can easily be swapped for vegetable broth. Replace butter and milk with soymilk or veggie-based butters and use heart-healthy olive oil whenever possible.
If Grandma is unwilling to trade Great Aunt Millie's famous three-meat stuffing for a veggie friendly option, you can always prepare a dish or two at home to bring for yourself or to share with others.
Web sites such as www.vegkitchen.com, wwww.theveggietable.com, www.vegweb.com and www.epicurious.com all have a bounty of tasty vegetarian and vegan recipes sure to please everyone around the Thanksgiving table.
As far as the main course, if you are not satisfied with a plate full of side dishes, there are a few delicious and filling options for veggie lovers. From vegetarian lasagnas to sweet potato gratin, you are sure to find a recipe to delight your taste buds. A classic, easy-to-prepare vegetarian favorite is the lentil loaf or the meatless meat loaf.
The ingredients include:
1 cup dry lentils, well rinsed
2 1/2 cups water
1/2 teaspoon salt
1 tablespoon olive oil
1/2 medium onion, diced
1 medium carrot, diced
1/2 teaspoon pepper
1 teaspoon soy sauce
3/4 cup rolled oats, finely ground
3/4 cup bread crumbs
Preheat the oven to 400 degrees. Place the lentils, water and salt in a saucepan and bring to a boil. Lower the heat, cover the pan and allow the mixture to simmer for approximately 45 minutes. The water should pretty much be gone and the lentils should be very soft.
Sauté the diced onion and diced carrot in olive oil until soft for about five minutes. Mix the lentils, onions, carrots, pepper and soy sauce in a large bowl, then mix in the oats and bread crumbs. Spread the mixture into a loaf pan and bake for 30 to 40 minutes.
For the adventurous and lazy vegetarian, there is the infamous prepackaged Tofurkey. Those looking for a nostalgic replacement for the traditional turkey may be utterly delighted at the meaty texture and surprisingly delicious flavor of Tofurkey.
Though your relatives may gasp and jeer at your faux turkey, their mockery may soon turn to envy once you carve open the lifeless log to reveal a savory stuffing of mushrooms, wild rice and herbs.
Thanksgiving is a wonderful escape from our hurried winter lives and there is no better way to celebrate than to sit down, give thanks and enjoy a marvelous meal with the people you love 8212; with or without meat.