Debate team defies odds in competition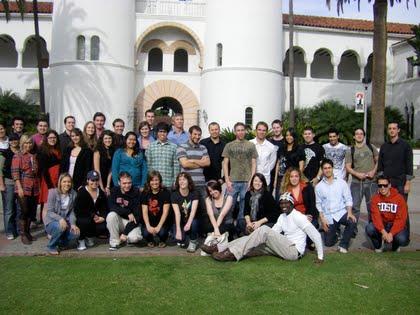 Courtesy of Eric Robertson
After a semester's worth of competition, San Diego State's speech and debate team has ranked 17 in the nation for overall achievements in parliamentary debate and individual speech events.
Members of the team participated in the National Parliamentary Debate Championship on March 20. SDSU has never had a representative compete in this competition before this year. There were four teams of two students representing SDSU in parliamentary debate at the event.
The speech and debate team has also ranked fifth nationally in individual speech events. Lacey Lowery was brought in to help coach the team in individual speeches. Last year, SDSU did not have a team for individual speech events.
SDSU speech and debate team president Walter Weis said he is proud of the growth that the team has experienced.
"We've had trouble in the past with getting and keeping good competitors, bu
t now we seem to have this persona, this swagger about us of an actual competitive team," Weis said.
Weis said that the team has been struggling to receive funding in recent years, and the lack of resources has made it difficult for the club to succeed. However, he said he thinks the club has been fortunate, as of late, because of donations from Qualcomm and an SDSU scholarship granted to a speech competitor.
Weis said he hopes the team will become a powerhouse in the debate circuit like crosstown rival Point Loma Nazarene University.
"We're looking to push into the top 10 in the country next year and keep winning and hopefully be knocking Point Loma out a few times," Weis said.
SDSU's speech and debate team was started 15 years ago, but was discontinued when the previous coach left. The team was revived nearly four years ago.
The current forensics director at SDSU, Eric Robertson, is in his fourth year of supervising the team. As director of forensics, Robertson helps the team prepare for events by teaching a class twice a week and organizing events.
According to Robertson, the team will have in-house tournaments where members of the team will compete against each other for practice. Recruitment is also important for the development of the team.
"We're trying to find people with strong interests in speech and debate or people that have some sort of background in it," Robertson said.