VOLLEYBALL: Aztecs try to take down crosstown rival
by Staff
September 15, 2010
Hang on for a minute...we're trying to find some more stories you might like.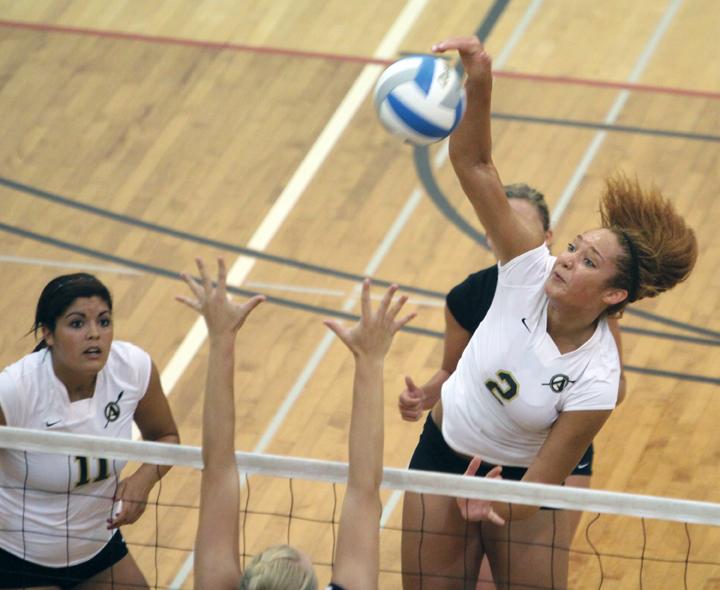 David J. Olender / Photo Editor
It's been a long time since the San Diego State volleyball team beat USD.
Seven years to be exact.
SDSU came back from a 2-0 deficit during the 2003 season to defeat the No. 18 Toreros, 3-2.
Since then, the Aztecs haven't been able to notch a victory against their crosstown rival. SDSU senior middle blocker Lauren Salisbury will try to change that this weekend.
"I have walked into every match at San Diego State with a sense of urgency, regardless of which team was on the other side of the net," Salisbury said. "Being a senior hasn't really changed (my) sense of urgency or aggressive play, but I will definitely walk into the match with a lot more knowledge than the previous years."
USD has been a force in the West Coast Conference, winning three consecutive league titles between the 2006 and 2008 seasons. Amy DeGroot has been a big part of the Toreros' accomplishments. The senior outside hitter has been key in her time at USD, and she currently ranks first in the WCC with 3.78 kills per set this season.
DeGroot was also a huge part of USD's success this past weekend, recording 28 kills in the Toreros' two victories against Virginia and then-No. 23 Long Beach State.
"They will have a little momentum, but with each game comes new competition," Salisbury said. "Regardless of ranking, on any given night, any team can win."
While the Aztecs may be coming off a winless weekend in Hawaii, they had won five of their previous six contests and will look to use that same momentum against USD.
In that stretch, the arms of junior outside hitters Kyley Sexton and Paije Pearson were instrumental in SDSU's success. Along with the duo, freshman outside hitter Raegan Shelton was also involved in the offense.
"We have a great group this year," Salisbury said. "And when we play with confidence and composure we do — good things."
The Aztecs will face off against a tough slate of teams in the USD / SDSU Challenge. After its contest with the Toreros at 7 p.m. tomorrow in Peterson Gym, SDSU (5-4) will return to its home court to face No. 12 Minnesota at 11 a.m. on Saturday before ending the tournament with a match against UC Santa Barbara later that night.
"This weekend will be great competition for us," Salisbury said. "All the teams in the tournament are great programs and we are excited to play them. Regardless if we are playing the No. 1 team in the nation, or the last-ranked team, we are here to play San Diego State volleyball."
AT A GLANCE:
When: 7 p.m., tomorrow
Where: Peterson Gym
Why to watch: The San Diego State volleyball team will attempt to pick up its first win against the Toreros since 2003.