Chicken and waffles turn diner around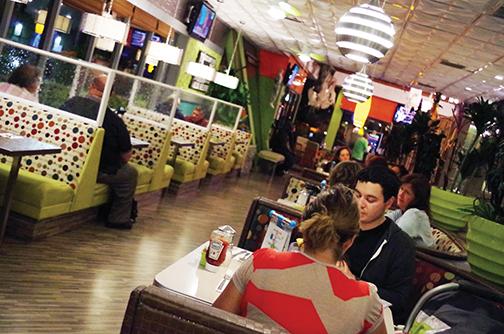 From the outside, Lil B's Urban Eatery doesn't look like an appealing restaurant.  The exterior is dull and there's an old, dingy sign spinning out front. The restaurant seems as if it has given up on itself, but upon sitting down to a plate, it's clear that it hasn't.
Located in North Park on El Cajon Boulevard between Oregon and Hamilton streets, Lil B's Urban Eatery serves up good old-fashioned American cuisine.  Crossing the threshold into the restaurant is a transformation from the bleak outside in to a 70s era dining experience.  Green, orange and neon colors cover the walls, chairs and lamp fixtures.  It certainly was a change of pace for a 90s baby such as myself.
I was seated immediately because there was no dinner rush, even on a Monday night.  Lil B's menu has a wide range of homestyle breakfast and dinner options. The first decision I had to make was what kind of meal I wanted. I had plenty of time to peruse the menu because the waitstaff seemed to ignore my presence for about 10 minutes.  I decided on breakfast, so I continued to flip through the front half of the menu.  And then I saw it.  I knew I had to have it—Lil B's chicken and waffles.
In addition to having a wide variety of food, Lil B's also has a nice selection of beer.  It carries the usual choices such as Bud Light, Blue Moon and Dos Equis, but also a few local brews from Stone Brewery and Karl Strauss.
I placed my order of food and a Red Trolley Ale with my waiter, who had a bit of an attitude.  Off he sped to give the kitchen my ticket.  After a short time, my food was in front of me.  This being my first time having chicken and waffles, I was ready to dig in.
The meal came with a large waffle and four pieces of chicken: a leg, breast, thigh and a wing.  The chicken looked overly deep fried and I was worried that it would be all crunch, but I was wrong.  The skin was fried to perfection.  Under the skin, the meat was perfectly cooked—not too dry or moist.  It fell right off the bone without me having to use a fork to pry it away. The waffle was the best I've ever had.  It wasn't too soggy or too hard and was deliciously flakey.
My meal came to less than $18 before tip.  I thought that was pretty steep for a dinner for one, but the portions were on the large side.  I left feeling quite full.
It was well worth looking past the concerning exterior to see what Lil B's Urban Eatery had to offer.  If classic traditional American dishes and a quirky atmosphere is what you seek, Lil B's Urban Eatery is the joint for you.
Photos by Jordan Owen.

About the Writer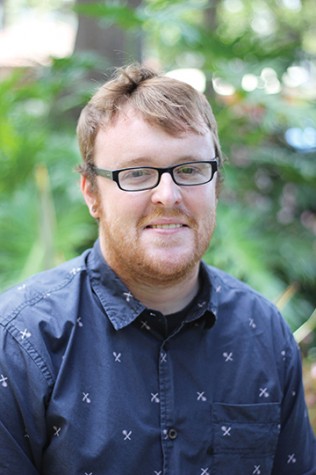 Nick Knott, Entertainment Editor
Nick is a journalism senior and in his second year at the Daily Aztec.  After starting as a staff writer in the features section, Nick switched to entertainment...