SDSU loses to No. 15 Fresno in OT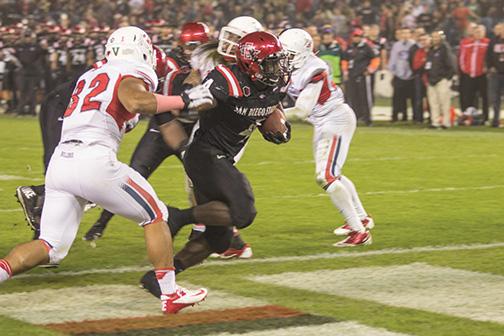 On paper, the San Diego State Aztecs outplayed the No. 15 Fresno State University Bulldogs on Saturday. SDSU had more first downs, converted on third down more efficiently and gained 166 more yards. However, the Bulldogs won the game 35-28 in overtime.
[quote]"It was just one of those games where it was a heavyweight fight and both teams were landing haymakers on each other. Luckily, we threw the last one," Fresno State head coach Tim DeRuyter said when asked about his team's victory.[/quote]
The Bulldogs scored first on their second possession with a 10-yard touchdown run by senior wide receiver Isaiah Burse.
The Aztecs threatened to score on the following possession, but sophomore kicker Seamus McMorrow missed a 40-yard field goal.
SDSU tied the game in the second quarter. Junior quarterback Quinn Kaehler threw a screen pass to junior wide receiver Ezell Ruffin, who stiff-armed his defender to the ground and ran a 44-yards down the Bulldog sideline. Junior running back Adam Muema ran a 10-yard touchdown on the next play.
The Aztecs took a 14-7 lead with 5:45 left in the third quarter after a dominant 11-play, 80-yard drive that culminated in a one-yard Muema touchdown run.
SDSU's secondary, often thought of as a weakness of the defense, dominated Bulldog senior quarterback Derek Carr for most of the game. Carr was the pre-season Mountain West Conference Offensive Player of the Year. Before this game he had passed for 2,276 yards and 23 touchdowns.  Until 5:45 left in the third quarter, Carr only completed 17 of 35 passes for 116 yards and zero touchdowns.
At this point Carr began throwing short passes, allowing his receivers to use their athleticism and get yards after the catch.
This strategy worked on Fresno State's next two possessions. Carr completed 15 of his 19 passes for 145 yards and two touchdowns. With 11:39 left in the game, the Aztecs trailed 21-14.
Chaos ensued on the next Aztec possession.
Threatening deep in Bulldog territory, Kaehler completed a pass to Ruffin on fourth down. Ruffin lost possession of the ball and appeared to fall on top of it. Not hearing a whistle to blow the play dead, Fresno State sophomore linebacker Ejiro Ederaine alertly scooped up the ball.
[quote] "I was showing (the ref) the ball, and he was looking at me and I was looking at him. It was kind of awkward. I heard one of my teammates yell, 'Go,' so I started running," Ederaine said after the game.[/quote]
Ederaine ran the ball back 78 yards for a touchdown, putting the Bulldogs ahead 28-14 with 9:51 left in the game.
With the crowd at Qualcomm Stadium still in shock, the Aztecs scored in 57 seconds with the help of a 60-yard catch and run by senior wide receiver Tim Vizzi. They trailed 28-21 with 8:54 left in the game.
SDSU perfectly executed an onside kick on the ensuing kick off.
"To be honest with you, that's as good of execution as any we've ever done in practice. Better than about 90 percent of the ones we've done in practice," SDSU head coach Rocky Long said after the game.
SDSU drove down the field after the onside kick recovery. A 27-yard touchdown run by senior fullback Chad Young rocked Aztec fans as SDSU erased the 14-point deficit in 3:36 against the 17th best team in the nation.
SDSU's defense stood tall and forced a three-and-out on Fresno State's next possession. The offense took possession at its 38-yard line with 4:32 to go.
Unfortunately, SDSU's special teams continued its poor play. Fresno State blocked McMorrow's potential game winning 37-yard field goal attempt as time ran out.
Fresno State had momentum entering overtime and won the game 35-28.
In the raw emotion of a tough loss, it's difficult to look at positives. Coach Long was able to do so, however.
[quote]"I think that our team showed unbelievable spirit," Long said. "I thought it was a great football, first of all. I think our team showed an unbelievable spirit. When they return a fumble for a touchdown, we go down by 14 I would bet 95 percent of the teams in the country would fold at that point. Not only did we not fold, we came back and had a legitimate chance to win the game."[/quote]
SDSU played phenomenal football Saturday night. It held the Bulldogs, who average 524.6 yards per game, to only 341 yards. Ruffin continued his emergence into the spotlight with 10 catches for 181 yards, both career-highs. Muema ran for 111 yards and two touchdowns on 27 carries and looked to be in complete control. According to ESPN2, SDSU sacked Carr three times; Until then, he had only been sacked three times the entire season.
The Aztecs' hearts were broken this week. However, given some distance from this game, it will be easier to realize that there's much more positive than negative to take from this game.
Photo by Kevin Serrano, Staff Photographer

About the Writer Matthew Bain, Managing Editor
Matthew Bain is the managing editor for The Daily Aztec. He's a senior journalism major with the Honors minor in interdisciplinary studies. His work...