SDSU fights back to beat Spartans 34-30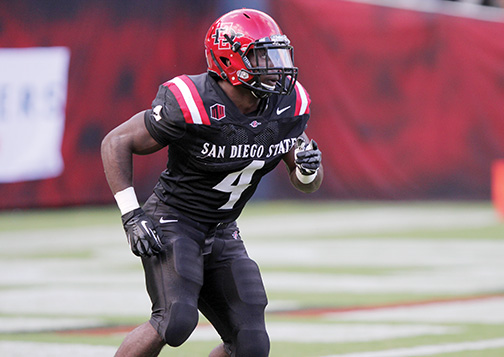 The San Diego State University Aztecs overcame an 11-point deficit to beat the San Jose State University Spartans 34-30 Saturday night in San Jose.
Aztec senior linebacker Nick Tenhaeff intercepted Spartan senior quarterback David Fales to start the game. Junior running back Adam Muema ran 21 yards straight through SJSU's defensive line immediately following the interception. SDSU couldn't score, however, as sophomore kicker Seamus McMorrow's 35-yard field goal attempt was blocked.
After junior quarterback Quinn Kaehler threw an interception on SDSU's second possession, SJSU drove 24 yards in five plays. Sophomore kicker Austin Lopez's 43-yard field goal went through the uprights. The Spartans led 3-0 with 7:49 left in the first quarter.
SJSU scored on its next possession with a 13-yard touchdown pass from Fales to freshman wide receiver Tim Crawley. Fales finished the game 27-48 for 301 yards, three touchdowns and two interceptions.
SDSU got on the scoreboard in the second quarter with Muema's first touchdown. A 32-yard pass from Kaehler to senior wide receiver Colin Lockett set this score up. The Aztecs trailed 10-6 with 14:11 left in the half.
After SJSU and SDSU traded three-and-outs, the Spartans scored on a 27-yard field goal. On their next possession, the Spartans assembled an impressive 75-yard drive, culminating in a 40-yard touchdown pass from Fales to senior wide receiver Chandler Jones.
Kaehler led SDSU in a nine-play, 82-yard drive to answer SJSU's touchdown with one of its own. Senior kicker Wes Feer's point after attempt was blocked, however, so the score at halftime was 20-12.
SDSU opened the second half with a missed field goal. SDSU special teams had an awful night: two blocked point after attempts, a blocked field goal and a missed field goal. After Feer had a promising 4-4-start to the season, Aztec kickers haven't made a field goal since Sept. 28 against New Mexico State.
One big play changed the momentum of the game. On the second play of the fourth quarter, freshman defensive back Damontae Kazee blocked SJSU's 38-yard field goal attempt. Senior defensive back Nat Berhe scooped up the ball and ran 56 yards to the Spartan 34-yard line. Freshman running back Donnel Pumphrey sped into the end zone on the following play. After a successful two-point conversion, the Aztecs only trailed 23-20.
[quote]"I give all the credit to everybody on defense and offense," Berhe said. " I mean we showed a lot of heart, to comeback from what we came from, a lot a teams would have gave up and coach Long was right, it's not over until its over."[/quote]
Fales proved his NFL prospect status on SJSU's next Spartan. Fales completed five passes for 70 yards and a touchdown to Crawley. The Spartans led 30-20 with 9:51 left in the game.
Both SDSU's offense and defense played clutch football in the last ten minutes. The offense scored two touchdowns: Kaehler threw 1-yard to junior tight end Adam Roberts and Muema pounded the ball in from 12 yards out.
Meanwhile the defense forced a three-and-out and junior defensive back J.J. Whittaker intercepted Fales' last pass of the game. Even special teams played better, making its final two point after attempts. SDSU outscored SJSU 22-7 in the fourth quarter to complete the comeback victory.
[quote] "I thought it was a great football game," head coach Rocky Long said. "We were just able to make some plays in the fourth quarter, enough plays to win the game … I thought both teams played extremely hard and both teams made lot of mistakes and both teams made a lot of big plays."[/quote]
Kaehler finished the game 18-31 for 235 yards, two touchdowns and one interception. Muema ran for 113 yards and two touchdowns on 21 carries. Pumphrey ran for 78 yards and a touchdown on 10 carries. SJSU averages 148.8 yards per game on the ground; it only gained 81 yards against SDSU's defense.
The Aztecs improve their record to 5-4 and 4-1 in the Mountain West Conference. Next, SDSU will travel to the University of Hawai'i and play the Warriors at 7:30 p.m. this Saturday on the CBS Sports Network.
Photo by Monica Linzmeier, Photo Editor

About the Writer Matthew Bain, Managing Editor
Matthew Bain is the managing editor for The Daily Aztec. He's a senior journalism major with the Honors minor in interdisciplinary studies. His work...