The Aztec's guide to happy hour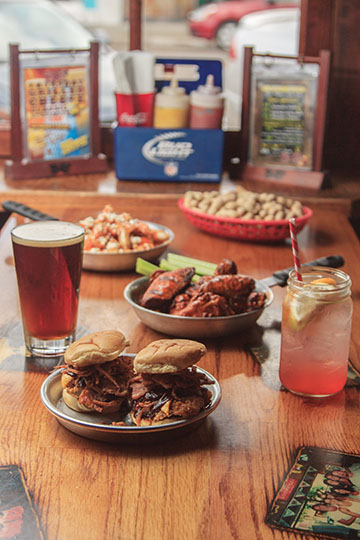 In this early stage of the holiday season, the prospect of stress makes many feel the need to relax while they still can.  Here are a few wallet-friendly places to spend an hour or two eating, drinking and being happy.
In this early stage of the holiday season, the prospect of stress makes many feel the need to relax while they still can.  Here are a few wallet-friendly places to spend an hour or two eating, drinking and being happy.
C Level
This cleverly named restaurant, one of 19 restaurants of the Cohn Restaurant Group Inc., is accordingly situated near the water on Harbor Island Drive.  Customers have great view of Coronado and Downtown San Diego.  Happy hour is available on weekdays from 3:30-5:30 p.m. Appetizers, such as crispy calamari, served with Vietnamese dipping sauce, and steamed Fox River mussels served in pinot grigio, chorizo, arugula, and a carmelized onion cream sauce, are $5. C Level drinks such as the Sol y Mar, a grapefruit vodka with aloe juice and fresh lemon, and the Desi Arnaz, a fruity rum with mint and soda, are the same price. Selected brews are $4.
Elbowroom
This bar has a friendly neighborhood atmosphere and is located in Kearny Mesa.  During the weekday happy hour, which is Monday through Friday from 3-7 p.m., drinks, drafts and bottles are $1 off.  The food menu ranges. The pork street tacos are $1.50 and a cheeseburger and fries is $4.95.  The Legendary Weekend Happy Hour lasts from opening to 6 p.m. on both days.  In addition to the food options available on weekdays, well drinks and draft beers are $2.50.  There are 16 high-definition TVs, a fire pit and a dog-friendly patio, all there to meet every customer's satisfaction.
La Fiesta
This restaurant, located in downtown, focuses on a modern twist on traditional food from the Mexican culture, with an emphasis on its specialty margaritas and more than 50 different types of tequila. Happy hour is Monday through Friday with special drink offers from 11 a.m. to 6 p.m. and food discounts from 3-6 p.m.  As for the drinks, drafts are $3 and wines and spirits are $4. Correspondingly, all five variations of fiesta tacos are $2, and fiesta ceviche tostadas range from $2 to $3. La Fiesta burritos are also offered at $6.50 for a California and $7.50 for a surf 'n' turf, shrimp or fish.
Bub's Dive Bar
This Pacific Beach bar prides itself on good service and "non-bar like" food.  Food specials are 4-7 p.m. Monday through Friday and 9 p.m. to 1 a.m. on Sundays.  From 4-7 p.m. Mondays through Thursdays drafts are $3.50 and cocktails (with the option of liquor additives) are either $4 or $5, depending on the brand.
The happy hour food menu consists of Picnic Potato Chips 'n' Dip at the lowest cost of $3, and grilled cheese sticks, Steaky-Steakum Bites, chicken corn dogs, double whiskey barbecue beef sliders are $5. Bub's Good Time Flatties, $6 flatbread pizzas, come in three combos: Beach 'N' Margarita, whiskey barbecue chicken and The Southbound.
Sushi on the Rock
Sushi on the Rock is an Asian-fusion, family-oriented restaurant that can be found on La Jolla's Prospect Street. Happy hour lasts from 4-6:30 p.m., which is when special drinks, starters, sushi and handrolls are available for special offers.  There are four different types of sushi rolls and five different types of handrolls in addition to starters such as the edamame hummus with toasted pita bread for $5, the katsu chicken slider and fries for $3 and the beef yakitori for $4.  The cheapest drink is a small hot sake for $2, and the most expensive is the house wine for $5.
Banker's Hill Bar & Restaurant
For a more upscale, modern experience on any weekday night, this downtown dining spot is one to consider. Regular happy hour lasts Monday through Friday from 4:30-6:30 p.m., and late night happy hour lasts from 9:30-11 p.m.  Some food options are offered during both, such as the $5 deviled farmers market eggs and truffled french fries. The $5 house wine and select drafts are also available. There's a slightly larger menu selection for the regular happy hour, including dishes such as the buttermilk fried chicken oysters and the roasted beet and citrus salad with arugula, goat cheese and crustini.
All La Fiesta photos by Chelsea Massey, staff photographer. All Bub's Dive Bar photos by Kevin Serrano, staff photographer.

About the Writer Olivia Litsey, Arts & Lifestyle Editor
Olivia Litsey is a sophomore at SDSU and an economics pre-major with an honors minor in interdisciplinary studies.  She started writing for The Daily...