SDSU alumna wins veteran of the year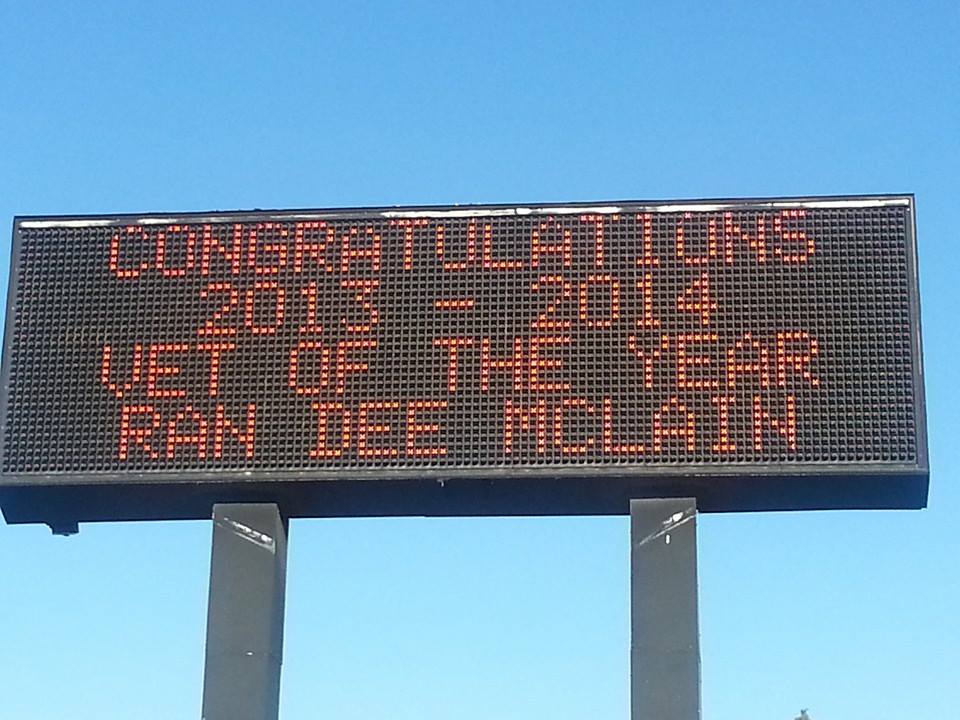 by J.D. Hodges
November 28, 2013
With great weather all year and the many amenities that Southern California offers, it's hard to argue with a veteran's choice to stay in San Diego.
Having a large veteran population makes it all the more impressive that San Diego State alumna Randee McLain was chosen as San Diego County Veteran of the Year against 27 other candidates.
McLain, a 2012 graduate of SDSU, is the first post-9/11 veteran to win this award, Chairman of the Board of the San Diego Veterans Museum and Memorial Center Will Hays said.
"The amount of volunteer work and efforts she did for various veterans organizations stood out very much," Hays said. "She was involved with so many different things."
McLain was involved with 21 events or charities throughout the year such as serving barbecue to service members at The Naval Medical Center San Diego.  She also assisted with the veteran Stand Down where homeless veterans in San Diego are brought to one spot for a host of services such as medical and dental care and haircuts.
McLain served eight and a half years in the Navy before going back to school. It was at SDSU where she became involved with the Student Veteran Organization, which sparked her desire to help veterans.
At an SVO event for wounded warriors at The Naval Medical Center San Diego, McLain met another SDSU student veteran, communications junior Holly Shaffner. They hit it off from the beginning and a friendship was started.
"She embodies all the characteristics that a vet of the year should have," Shaffner said. "She has her fingers in every aspect of the veteran community. I'm very proud of her and all of her accomplishments since she left the Navy."
McLain has continued to be involved with the SVO at SDSU even though she has already graduated.  SVO President Paul Contreras said she partnered with the SVO to help get SDSU veterans in the Veterans Day Parade.
"She is really motivated and she always gets the job done, even if it had to be just her doing the job," Contreras said.
There was more to her though than just helping veterans, Contreras said.
"She was a very personable and caring person, she would open up her house to people and was very hospitable," Contreras said.
McLain's path to where she is now is a winding one that started with her leaving her hometown of Hot Springs, Ark. to go to Chicago to work as a dispatcher for the police department while she put herself through school.  Then 9/11 happened, and similar to many people, McLain's life took a different turn.
McLain enlisted in the Navy and served as a master at arms and a gunner's mate, similar to the job of a police officer and a weapons instructor in the civilian world.
She then separated from the Navy after suffering a knee injury, and being from the San Diego area, decided to go to SDSU where she graduated with degrees in criminal justice and sociology.
"At that point I had to decide what to do next," McLain said. "My heart was law enforcement, but my body sustained injuries that would make that very difficult.  Not impossible, but challenging.  I also had a passion for serving my fellow veterans and was active in multiple veterans organizations throughout the county.  It was time to pick which one—law enforcement or veterans—would be my career and which would be a hobby. I chose to pursue my masters in military social work through the University of Southern California."
As for future plans, McLain isn't sitting idly by. She's developing a special non-profit organization here in San Diego.
"It's the first of its kind in the country that has a joint collaboration between the Department of Defense, veterans administration and non-profit to help our critically-injured service members who suffer from traumatic brain injury and amputations to have a seamless transition from active duty to Veterans Affairs care and then back into the civilian society," McLain said.
Kathy Walston, McLain's mother, isn't surprised at her daughter's success and how she has achieved it.
"She really is committed to what she is doing. There are a lot of times when her day starts at 3:30 a.m. and she is still going at 11:00 p.m.  Between her volunteering, her internship, her school and work, she is busy," Walston said. "She's her own greatest critic and she is going to do great things."
McLain's mother may be biased but it seems as if she's spot on. McLain has done great things for veterans already, and she wants to do more.
"What I am most proud of is that I have overcome the challenges I faced after leaving the military and am now able to pay it forward and help other veterans," McLain said. "I love the fact that I am able to balance my career, school and hobbies and still be able to help our fellow veterans. When you love what you do it doesn't feel like work."
Photo courtesy of Randee McLain