Cruelty-free cuisine at quirky cafe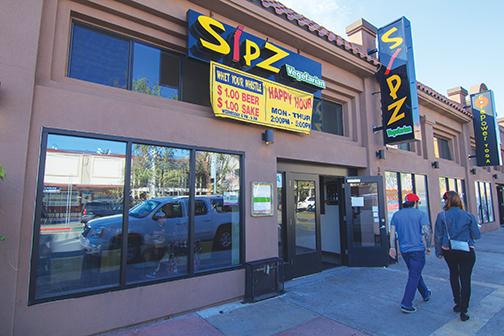 by Carla Romero
March 6, 2014
From boba tea to 100 percent vegetarian meals, Sipz Vegetarian Fuzion Cafe is not your ordinary Asian fusion restaurant. Smack dab in the middle of North Park, the funky cafe boasts an influence of Vietnamese, Thai, Chinese and Japanese dishes on its menu. Sipz customers get to enjoy a variety of tasty Asian dishes that are primarily vegan, but always completely vegetarian.
"What we wanted to do with the menu is provide a lot of people's favorite Asian dishes, but vegetarian," Sipz Manager Casey Eads said. "This really provides a way for people who really did choose to be vegetarian or vegan to still be able to enjoy a lot of the dishes they love."
Sipz serves all kinds of Asian fusion meals but specializes in "bowlz." From soup, salad and noodle "bowlz," customers can pretty much order anything their hearts desire. The cafe offers all kinds of mock meats in its bowls from "chicken" and "beef" to "meatballs" and "shrimp"—all which taste remarkably like the real deal.
Eads recommends the veggie pad thai noodle bowl. The bowl comes with stir-fried rice noodles, bean sprouts, steamed onions and mock chicken; it's hard to believe it isn't real poultry. The spicy plate is topped with a Thai-flavored sauce and crushed peanuts. Adventurous diners can opt for an even spicier version of this bowl, but all will be satisfied by its fusion of flavors.
Sipz's sibling owners promote a healthy vegetarian lifestyle because of their respect for the world, people and animals. However, at its beginning, Sipz wasn't conceptualized as a restaurant. It was originally set up as a coffee and boba tea shop in Clairemont back in 2002. After adding a couple of food items to the menu, the cafe heard its regulars asking for more.
"We just started adding more and more food and people loved it," Eads said. "It transformed into a restaurant and now we have a second location, so it's just growing and growing. "
The North Park location has been around for almost three years and has established itself as part of the community. It's open every day of the week with varying happy hour specials each day. The prices are student friendly at around $7.75 for lunch items and $9.25 for dinner. The folks at Sipz serve an abundance of food on every plate, making sure you get the best bang for your buck.
Photos by Staff Photographer Kevin Serrano.