Aztecs prepare for Nike Portland Invitational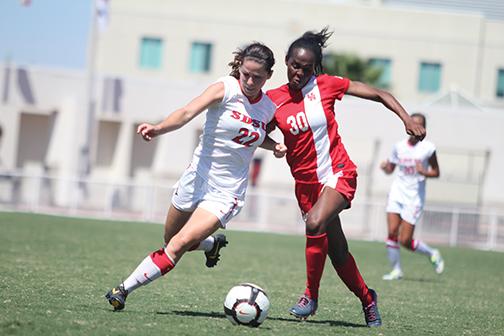 by Anthony Reclusado, Staff Writer
September 11, 2014
Hang on for a minute...we're trying to find some more stories you might like.
The San Diego State women's soccer team will face its toughest road test when it heads up north to the Nike Portland Invitational. Not only will the Aztecs face two elite teams in the University of Washington and the University of Portland, but will also play  their first games away from Montezuma Mesa.
The red and black have kicked off this season thoroughly outplaying their competition on both sides of the ball. In their four games, the Aztecs have outshot their opponents 97-36, hold a 45-18 edge in shots on goal and maintain a remarkable advantage in corner kicks at 32-12 that has led to a record of 2-1-1.
SDSU's first match will be Friday at Merlo Field in Portland, Oregon against the University of Washington (4-1), which will be an excellent test for how Friesen's team should fair this season on the road. The Huskies head coach, Lesle Gallimore, will also be able to use this game to test where her players are; as the last match they played against a team of the Aztecs' caliber they were embarrassed on their own field to a score of 4-0.
This game will come down to defense and midfield play, as goals will definitely be at a premium in this match. The Aztec defense will have its hands full with the Huskies' senior forward Jaclyn Softli, sophomore Becca Schoales and fifth-year senior midfielder Kate Bennett. On the flip side, the backline of SDSU, led by junior defender Tiffany Geer has gave fits to the opposition's attacking line with their aggressive play style having a slight advantage in this matchup.
For the Huskies, their defense and midfielders will have to be on high alert every time freshman forward Aliyah Utush or Angella Mitchell touch the ball as they both have the ability to outrun their entire defense. Washington also has to take into account the senior forwards of SDSU; Hannah Keane, Kelsey Booth and Haley Locker who can all create shots when they are in their attacking third.
Two days later, the Aztecs will face an equally challenging opponent, the Portland Pilots (2-3). The Pilots were also roughed up by Wisconsin to a score of 3-0 and have lost all three games to ranked opponents.
This game will tether on possession and which forward line will be able to solve the other's defensive code.
The defensive line for Portland has both speed and has faced their fair share of talented forwards, thus will be ready for when they face SDSU. The Aztecs will need their senior players to step up and break down the vice grip defense that the Pilots are capable of.
SDSU has an upward battle going into Portland this weekend and will be tested as a team. These games could determine if the road woes that greatly haunted this team last year have been exhumed.