Tasty Tuesday: Ranchos Cocina serves scrumptious cuisine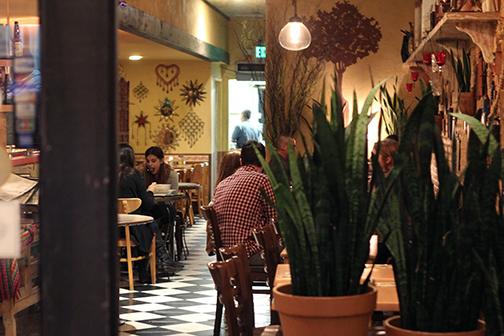 by Kellie Ferguson, Staff Writer
November 4, 2014
The North Park neighborhood has expanded into a vibrant area of San Diego. It has tons of shops, an active nightlife and a plethora of bars and restaurants.
Ranchos Cocina is one of these restaurants, located in the heart of North Park on 30th and University. This restaurant has a large menu that caters to vegetarians, vegans and meat eaters. Ranchos Cocina also focuses on sustainability, sourcing ingredients from local farmers markets, composting food scraps from the restaurant and even recycling its vegetable oil as biofuel for its catering truck. In order to deliver a menu that appeals to various dietary needs, the sauces, rice, beans and tortillas are all free of lard, MSG and animal byproducts.
I stopped in Ranchos Cocina for lunch. The restaurant has a cute front patio, and the inside is decorated very eclectically. After admiring the Frida Kahlo paintings and Catholic art, we sat inside and were immediately served fresh chips and salsa. After devouring said chips, we decided on our lunch. My roommate ordered the enchiladas trio and I ordered the avocado and corn enchiladas. My roommate's dish consisted of a beef enchilada with Mole sauce, a chicken enchilada with verde sauce and a cheese enchilada with roja sauce, as well as rice and beans. My meal was vegan, consisting of two enchiladas, made from blue corn tortillas filled with avocado and corn, and with a side of rice and beans.
The food at Ranchos Cocina is quite good. The sides of rice and beans were tasty, and I could definitely tell they had been made with high quality ingredients. My roommate said she enjoyed her meal, both for the variety of different flavors it contained, as well as the quality of the food. I also liked my enchiladas. The fact they were vegan was not on my mind as I ate. Everything was flavorful enough that I didn't miss the cheese. Although I enjoyed my food, I thought the enchiladas could have used an ingredient with some crunch. However, I still greatly enjoyed my meal. The food was not greasy and full of lard. It was rich and full of flavor, and I was very happy with my experience.
Ranchos Cocina has a large menu and it was difficult for me to decide on what I ate. I will definitely come back to this restaurant to try some more of their dishes, especially their brunch menu (It sounds fantastic!). The service and atmosphere here is good, and the restaurant is very cute. The food satisfies that deep craving for Mexican cuisine that every southern Californian experiences, while promoting a sustainable and eco-friendly lifestyle. If you ever find yourself in North Park craving fresh, delicious Mexican food, Ranchos Cocina is definitely worth checking out.