Aztecs lead Wolf Pack 14-10 at halftime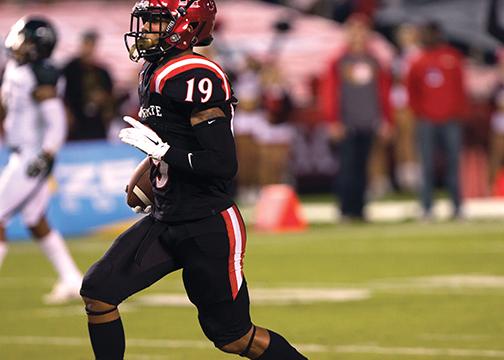 by Ryan Posner, Staff Writer
November 1, 2014
Hang on for a minute...we're trying to find some more stories you might like.
The San Diego State Aztecs are leading the University of Nevada, Reno Wolf Pack 14-10 at halftime in Reno, Nevada.
Junior wide receiver Jemond Hazely gave the Aztecs the lead late in the second quarter when he hauled in a 21-yard touchdown catch from senior quarterback Quinn Kaehler.
Two turnovers, including a fumble by sophomore running back Donnel Pumphrey in the red-zone, hurt the Aztecs in the first half. SDSU got on the board late in the first quarter thanks to a one-yard run from junior running back Chase Price. Pumphrey is the team's leading rusher at the half with 50 yards on 10 carries.
Kaehler was responsible for the other turnover, as he threw an interception into triple coverage at the beginning of the second quarter. Kaehler enters the half having completed 12 of 22 passes with 143 yards and a touchdown.
Nevada quickly responded after the interception and scored on a 20-yard pass from senior quarterback Cody Fajardo two plays later. Fajardo, who surpassed 9,000 career passing yards in the first half, went eight of 15 with 85 yards, but has been bottled up by the SDSU defense on the ground, and has negative two yards rushing.