Aztecs trail Air Force 14-13 at halftime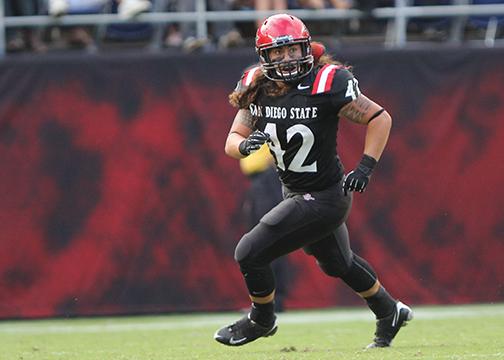 by Ryan Posner, Staff Writer
November 21, 2014
The San Diego State football team is losing 14-13 to the Air Force Academy heading into halftime at Qualcomm Stadium.
The Aztecs scored on their first drive  as senior quarterback Quinn Kaehler hit senior fullback Adam Roberts for a 14-yard score.
That would be the only touchdown for SDSU in the first half though, and for the second straight week they struggled to get score touchdowns when in the red-zone.
Even after two fumble recoveries put the Aztecs in prime position to take a lead against Air Force, they were forced to settle for two field goals from junior kicker Donny Hageman.
The SDSU defense has handled the high powered Air Force triple option rushing attack well, holding the Falcons to just 46 yards on the ground through two quarters. It has  been aided by an SDSU offense that has kept it off the field and controlled the ball for more than 20 minutes in the first half.