Love at SDSU: Love and magic spark on Montezuma Mesa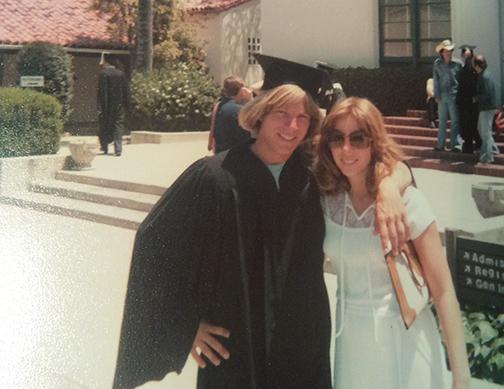 Hang on for a minute...we're trying to find some more stories you might like.
"I always say, I got my BA and my MRS at the same time," alumna Jane Shaw Roberts said. "That's the big joke."
Jane grew up in San Diego and had always wanted to go to San Diego State. Alumnus Gary Roberts grew up in Palo Alto and spent two years there going to community college and working for a local newspaper before coming to SDSU as a junior.  The two met while they were students at SDSU in early 1976.
They lived on the same floor of the old Tarastec dorm. Gary lived in a room just across from the laundry room, and Jane remembers knocking on Gary's door with her roommate while doing laundry.
"We'd say, 'Here's a dollar, do you have any change for the washing machine?'  He always did," Jane said. "Then we hung out, and we would all go in groups to study at the library and go to football games."
"I thought she was cute," Gary said. "We got along together and we had a lot in common."
"We kind of liked each other," Jane said. They started dating in the same year.
They have many memories of students that became their lifetime friends from their dorm and campus life such as playing on the tennis courts that were next to Tarastec, going to parties, and attending plays.
"There's something magical about that school," Jane said. "It's a good school and it feels like a real community there. And there are so many activities. Although it's huge, if you just get involved or find your group then you really feel like you're a part of the school. There's something for everyone."
Gary earned his bachelor's degree in 1978 as a recreation administration major with a business minor. Jane graduated in 1979 with a bachelor's degree in psychology.
Today, the couple still enjoys attending SDSU events such as games and concerts, and keeping track of all the new developments on campus. They are Aztec basketball season ticket holders and members of the SDSU Alumni Association.  Their names are even carved on one of the name plate stones that encircle the library dome on campus. They remember walking past the stone on their way to basketball games with their daughter when she was very young.
"We'd go there and our daughter would step on it as she'd go by.  She'd go 'Mom and Dad, you're there!'" Jane recalled with a laugh. This daughter graduated from SDSU in 2014 with a bachelor's degree in Recreation Administration.
Jane believes her time at SDSU prepared her well for her career. Though her program was rigorous and the professors were challenging, she liked the interesting lectures and believes she learned a lot.  After earning her teaching credential from San Diego Christian College, Jane became a teacher.  She currently works as a second grade teacher at Flying Hills Elementary School in Fletcher Hills.
"It's a job that I still love today, you know," she said. "I think if you find a job that you love, you're just very, very lucky.  It's not just going to work, it's really enjoying what you do."
Gary drew from his newspaper experience in Palo Alto and worked for the Union Tribune for 11 years after he earned his bachelor's degree.  He eventually tired of the long hours and, along with some advice from loved ones, his affinity for sports and love for children led him to become a teacher.  He returned to school to get a teaching credential from San Diego Christian College and a masters' degree from SDSU.  He currently works as a PE Prep teacher at Holmes Elementary School in Clairemont. He remembers Randi McKenzie, who is currently the Assistant Dean for Student Affairs in the College of Professional Studies and Fine Arts, as one of his favorite professors from his time at SDSU.
"When I was taking classes before I started my credential, I took (Physical Education) for children at San Diego State," he said. "She was really good, I liked doing that."
All these years later, Gary and Jane are the epitome of a happy couple.  They will celebrate their 35th wedding anniversary this May. If they had not studied at SDSU, their lives would be much different.
"I don't know what I'd be doing, because I might not have been a teacher except for coming here," Gary said.  "Wouldn't have met Jane either — that's a big thing."
"Good answer," Jane said.