Alums make a splash with swimwear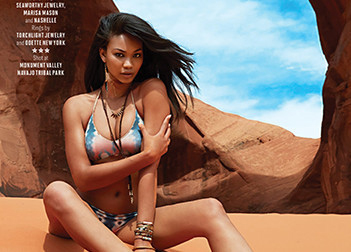 by Kalah Siegel, Staff Writer
April 16, 2015
Hang on for a minute...we're trying to find some more stories you might like.
It might sound like a fairy tale, but not so many years ago, in a finance class not so far away, Tom Standish and Meghan Keiter met, fell in love and started a successful business. They are thankful for San Diego State and its role in their version of happily ever after.
Soon after the couple graduated from SDSU they founded Water Glamour Swimwear, a company that produces high-quality reversible swimsuits for sunbathers and water-lovers alike. Currently, Standish and Keiter are celebrating their engagement, as well as Water Glamour's recent feature in the Sports Illustrated Swimsuit Issue.
Few swimwear companies find their products in the glossy pages of Sports Illustrated, but the stars seemed to align for Standish and Keiter.
They met some of the editors from Sports Illustrated while attending a swimwear tradeshow in Miami. The editors liked the Water Glamour swimsuits and asked for samples, but with all the orders from the tradeshow, the couple only managed to get one sample to the Sports Illustrated team.
"Sports Illustrated lugged over 3,400 bikinis with them on the photo shoot, and about 150 made it into print," Standish said. "The one swimsuit we sent in was featured."
Not only does the company produce stylish, quality garments, but they also pride themselves on social responsibility.
Standish and Keiter are committed to manufacturing the swimsuits domestically, rather than sending jobs overseas to save money.
Every Water Glamour bikini purchased helps support full-time jobs in the United States.
Despite their recent accomplishments, Standish and Keiter haven't forgotten where they established the foundation for their entrepreneurial achievement.
Both in the classroom and out, SDSU gave them the building blocks for success.
"The professors made the experience, and really taught us. I still remember little things professors told us — and they were right," Keiter said. "I wish I could contact them all and say thank you, because they really made an impact."
According to Keiter, a small business-consulting course with marketing professor Donald Sciglimpaglia was one of the most valuable classes she took. The class provided experience doing a real business project for National City, which directly correlates with what she does now.
In addition to the phenomenal hands-on education, extracurricular activities also played a role in preparing the couple for the real world.
Standish credits his Sigma Phi Epsilon membership with teaching him invaluable lessons about leadership, management and human interaction.
"My experience in Greek life was great," Standish said. "It gave me the opportunity to implement lessons from school into the chapter — it was like foreshadowing the real world."
If they could do it all over again, the alumni agreed they would seek internships — and lots of them.
"If you do the internship right, you can turn it into a job, get ahead of your peers, and just get ahead of the game," Standish said. You become so much more marketable as a person."
Keiter and Standish are currently looking for marketing interns, and are hoping to hire ambitious SDSU students who are up for the challenge. The team is also planning to expand their production capacity and online presence in the next year. It's safe to say more great things are coming for Water Glamour Swimwear and these two remarkable SDSU alumni.