Tasty Tuesday: Ice Cream Shops Invade San Diego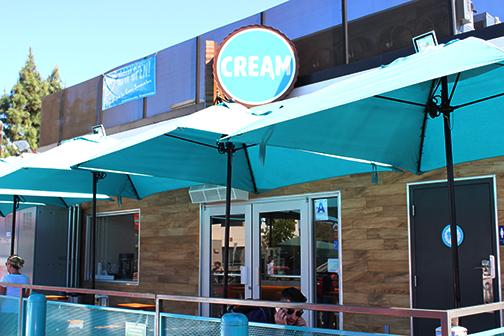 There is no sweeter type of invasion than an ice cream invasion. That's right, students are now able to artfully craft their own delicious ice cream creations at the newly opened CREAM located next to Bruxie. However, another popular ice cream sandwich shop known as Baked Bear is also located in the San Diego area. As the saying goes, two is always better than one.
Baked Bear is located in Pacific Beach and almost always has a line out the door, and for good reason. This restaurant serves a variety of cookies, ice creams and toppings for a reasonable price. Whether one might be craving chocolate chip, red velvet or even Funfetti, Baked Bear has many cookie and ice cream flavors to choose from. Guests can even choose to have their preferred ice cream flavor on a brownie sandwich as well. Cookie sandwiches are $3.25 and brownie sandwiches are $4.25. Individual cookies can also be purchased for $1. Baked Bear is the perfect treat after a long day at the beach.
The original CREAM first opened in 2010 in Berkeley and has come a long way with nearly 20 locations currently. On CREAM's opening weekend at San Diego State, the small shop offered free ice cream sandwiches to the public during certain hours of the day. While the line may have become long at times, the wait was definitely worth it. CREAM has a similar menu to Baked Bear with a variety of cookies, ice cream flavors and toppings. CREAM also offers customers vegan and gluten-free cookies. Along with the ice cream cookie sandwiches, CREAM also serves yummy shakes and even ice cream tacos. The prices at CREAM are nearly the same as Baked Bear, if not cheaper depending on what a customer chooses.
I was able to visit both CREAM and Baked Bear, and honestly, both places are very similar. CREAM is slightly cheaper and has a wider variety of cookie and ice cream flavors when compared to Baked Bear. However, the chocolate chip cookie and brownie sandwich with mint chip ice cream and sprinkles that I created at both restaurants were equally tasty.
Along with the Pacific Beach establishment, Baked Bear has locations scattered throughout San Diego with branches in Petco Park, Carlsbad and a Carmel Valley location coming soon. While the only CREAM in San Diego is conveniently located on campus, there is actually a new store opening soon in none other than Pacific Beach.
CREAM and Baked Bear are very similar in the style and customization of the ice cream sandwich. Both places can definitely satisfy any sweet tooth's craving for cookies and ice cream. With summer quickly approaching, it doesn't seem like such a bad idea to have multiple places offering creamy ice cream and freshly baked cookies. Let's hope the ice cream invasion doesn't end any time soon.