SDSU helping with software that predicts wildfire paths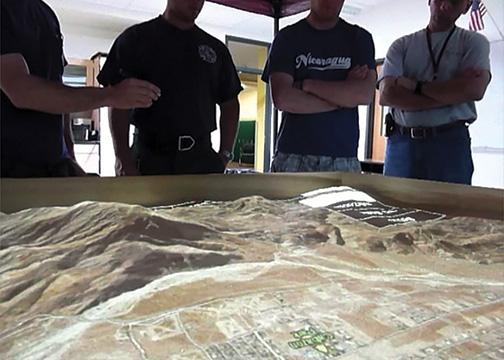 The San Diego State Visualization Center is being used to implement, observe and test modeling software developed by New Mexico-based SimTable that can help predict the spread, speed and direction of wildfires.
The SimTable map is a high-tech sandbox with a computer, camera, projector and laser pointer.
Images representing the fire are projected onto a physical map, giving the user a multi-dimensional bird's eye view of the region in focus.
Once the image is projected, the topography can be altered to mirror the terrain of the area. The operators can adjust variables such as vegetation, wind speed, wind direction and temperature. This information goes into an algorithm and renders a virtual fire over the map, replicating the desired scenario.
Professor Eric Frost, director of SDSU's homeland security master's program and of the visualization center, said the integration between virtual and physical modeling makes this project unique.
"This allows most people to dramatically improve their understanding of complex information like moving fires, hazmat plumes, floods … most of the things that we have traditionally relied on extreme experience to know what to do," Frost said.
The tools are intended to help first responders and rescue workers understand complex data and make better decisions under high-pressure circumstances.
Justin Freiler, program coordinator and lecturer of the graduate program in homeland security, believes this program can immensely help firefighters and the San Diego community.
"SimTable can help firefighters understand areas and how a fire would react before a fire actually occurs, as well as reduce the fire danger that would then reduce the risk of injuries, deaths and property," Freiler said.
Aside from helping predict the spread of wildfires, the map can also identify potential flooding.
"SimTable can make water from storms flow downhill on the topography and see where it will impact people and infrastructure," Frost said. "With El Niño coming this fall, this is extremely important."
A new version of the SimTable map was rolled out to make data available to mobile smartphones for firefighters in the field.  The developers plan to use social media to widen the map's online distribution. A real-time video feed can be projected onto the table and shared online, as well.
Funding for SimTable comes from various outlets. ASIS International, an organization that specializes in providing resources to security agencies, is the main source of support.
There are currently 65 SimTable maps used by local city and county fire agencies in the western U.S. Additionally, there are installations in Canada, Cuba, London and Venice, Italy.
"The SDSU VizCenter partnership with SimTable will hopefully help the region embrace the power of the technology and assist SDSU in its role of helping the community," Frost said.