Campus police investigate robbery as hate crime
Suspects reportedly made comments about President-elect Donald Trump.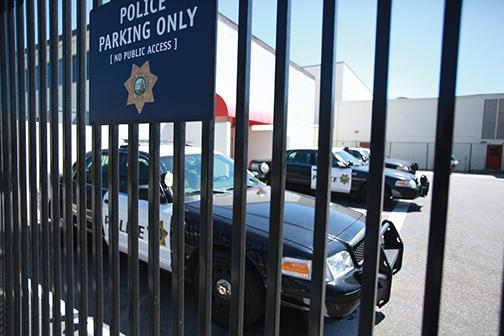 by Will Fritz, Senior Staff Writer
November 9, 2016
A San Diego State student wearing a hijab was the victim of a strong-arm robbery in Parking 12 at approximately 2:30 p.m. on Nov. 9.
"Comments made to the student indicate she was targeted because of her Muslim faith, including her wearing of a traditional garment and hijab," a statement from SDSU President Elliot Hirshman, Vice President of Student Affairs Eric Rivera and Interim Chief of Police Josh Mays said.
The student was using a stairwell in the parking structure when two males, who were talking about President-elect Donald Trump, confronted her and grabbed her purse and backpack before leaving the area, a community safety alert from campus police reported.
The victim's car was also missing when responding officers arrived.
Aisha Sharif, sociology senior and friend of robbery victim, said the men who attacked her friend told her to start preparing to leave the country. 
"They said something along the lines of 'now that Trump is president, get ready to start packing up and flee,'" Sharif said.  "She had her keys in her hand, and they just took her keys and took her car."
One of the suspects was described as a white male adult and the other was a Hispanic male adult, both in their early twenties.
Sharif said she was not aware whether her friend's purse and backpack were also taken, but knew for a fact the keys had been taken.

"I think this absolutely relates with (Trump winning). It's sad that it's only- hasn't even been 24 hours since he's been elected and we're already getting this type of hate," Sharif said. "It's sad that it's happening on a college campus where we pride ourselves on diversity, especially here at SDSU."
The student was left uninjured in the robbery.
The statement from administrators continued by condemning it as a "hateful act."
"Hate crimes are destructive to the spirit of our campus and we urge all members of our community to stand together in rejecting hate," the statement said.
This comes after President Hirshman and other campus leaders issued a statement earlier in the day calling for "campus unity."
"At this moment of transition, we reaffirm our community's commitment to ensure fair and equitable treatment of all members of our community," the earlier statement said. "We ask all members of our community to keep this perspective and the importance of empathy for others foremost in their thoughts as we go through this transition period."
The next day on Wednesday Nov. 10 SDSU College Republicans sent out a statement in regards to the robbery and hate crime incident.
In the statement College Republicans said "We understand that the GOP does not have the best reputation in this country, and we understand the perceptions about us. But our club does not condone these events nor will stand by idly as our Muslims peers are harassed and molested. This needs to stop."
This article was updated on Nov. 10 and 10:38 a.m.