Students decry parking structure closures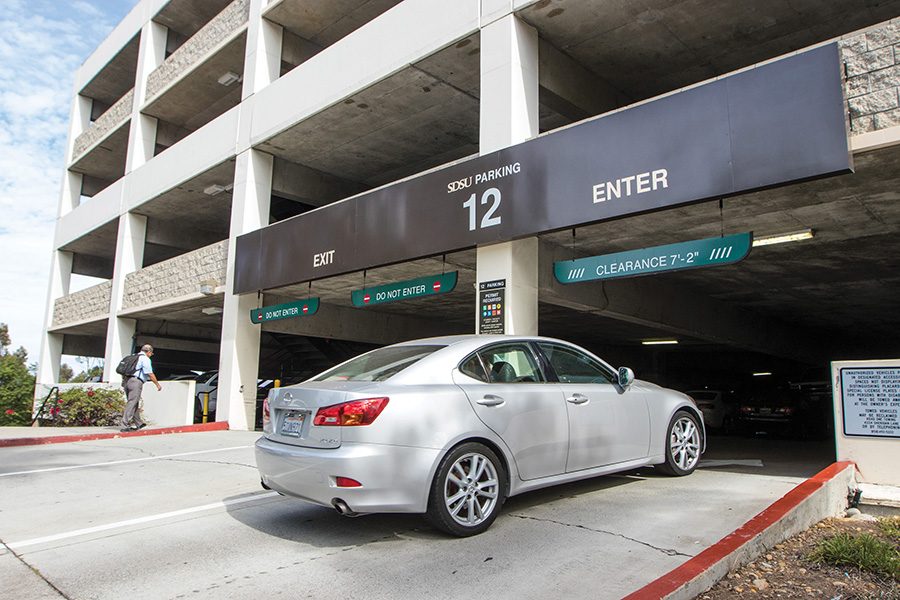 by Chris Bremer, Staff Writer
November 11, 2017
Students lose access to two parking structures during events at Viejas Arena — specifically, basketball games — further straining the already-stressed parking infrastructure around campus.
San Diego State issued more than 12,600 commuter parking permits in the fall 2017 semester, more than the 10,090 parking spaces available on campus, said Debbie Richeson, director of Parking and Transportation Services.
Students said the closures are inconvenient and frustrating.
"I have problems parking and I hate when they close (parking structures)," said business senior Kylie Moore. "It shouldn't be closed for students because we pay for that."
The university sells more parking permits than spaces, Richeson said, because not all students come to campus every day.
On basketball game days, parking lots 7 and 12 close at noon, but students already parked in the structure are not required to move their vehicles once it closes.  Students with an "N" permit – meaning overnight parking – will not be turned away from the closed structures. Parking structures remain open for faculty and staff as well, Richeson said.
Viejas Arena seats up to 13,500 people, hosting events ranging from concerts to basketball games. Attendees need to park somewhere, but students said that should not occur at their expense.
"Closing multiple parking structures due to non-academic events will surely have a negative impact on students who are trying to arrive to their courses on time and receive an education," Moore said. "It's unfair to students who pay tuition and parking fees."
Business freshman Renee Phillips said she thinks the timing of the closures is problematic as well.
"I do think students could be affected at 12 p.m. because it's so busy at that time of day," Phillips said. "I think it could be a big deal."
Not all students commuting to SDSU are concerned by less parking availability.
"My experience (parking) has been fine," said Ellie Williams, a kinesiology junior. "Every time I come to school there are quite a few people leaving, so there's a few minutes of driving around but I normally get lucky."
Students who normally park in structures 7 and 12 are recommended to relocate to structures 3 or 4, or lot 17, Richeson said.
Parking and Transportation Services always notifies the SDSU community prior to the closure of parking structures via email, she said.