Jeremy Hemsley learns to block outside noise, stay mentally healthy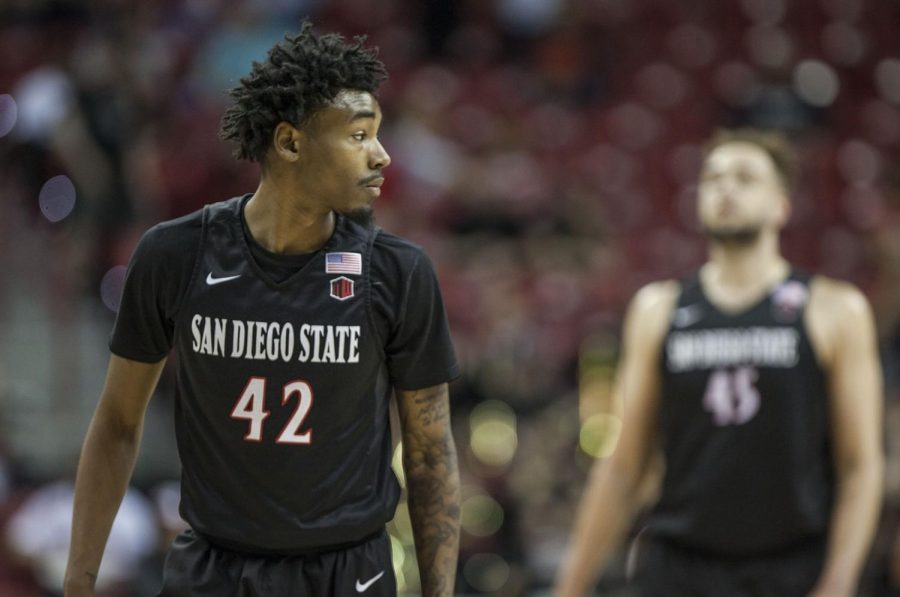 Athletes can lift weights, shoot a thousand shots in the gym, work on defensive techniques and scrimmage, but staying mentally healthy is often overlooked in college athletics.
Expectations are high this season for San Diego State men's basketball, and pressure looms over the team's 14 student-athletes.
People will talk about them, criticize them and judge what they do.
Senior guard Jeremy Hemsley has had his ups and downs since arriving on the Mesa in 2015.
Hemsley started all but one game his sophomore year but was reduced to a bench role last season, starting only seven times.
Hemsley averaged 12.9 points per game his sophomore year, good enough for second on the team. However, he struggled his junior year while averaging 7.3 points per game.
The struggles on the court followed Hemsley off the court, whether it was hearing hecklers on social media or in person.
Over this past summer, Hemsley and junior forward Nolan Narain were at Blenders, a smoothie restaurant near campus. The two encountered a heckler who went up to Hemsley and started taking verbal shots.
"He was like 'Jeremy, you completely lost your confidence,'' Hemsley said.
Hemsley, however, said he refrained from talking back, deciding instead to walk away from the situation.
"You deal with stuff like that," Hemsley said. "I had to give him a respectful reaction because it looks bad on me if I were to flip out."
Instances like this have challenged Hemsley.
Hemsley said this past summer was the first time he spoke out about his struggles with mental health.
"Not many are going to speak on it," he said. "I didn't say anything until this summer. The whole last year I was struggling."
As a senior, Hemsley wants to guide younger players on the right path, so they don't have to go through what he did.
Hemsley said his advice to freshmen is the importance of a healthy mind, both on and off the court.
"The mental aspect of the game, I'll tell them to take that serious and to just really be in touch with themselves," he said. "And to not really let all the other outside voices cloud their minds."
The importance of mental health is not just confined to outside of the court; it is also a big part of playing the game itself.
Sophomore guard Matt Mitchell has been working on his mental health over the summer, preparing himself to limit mental errors on the court.
He said the mental part of basketball supersedes every other aspect of the game.
"I think this game is 90 percent mental, 10 percent physical," Mitchell said. "Once you make the game more mental than physical, I feel like players can take that next step."