Column: Ryan Agnew deserves playing time at quarterback when Christian Chapman fully recovers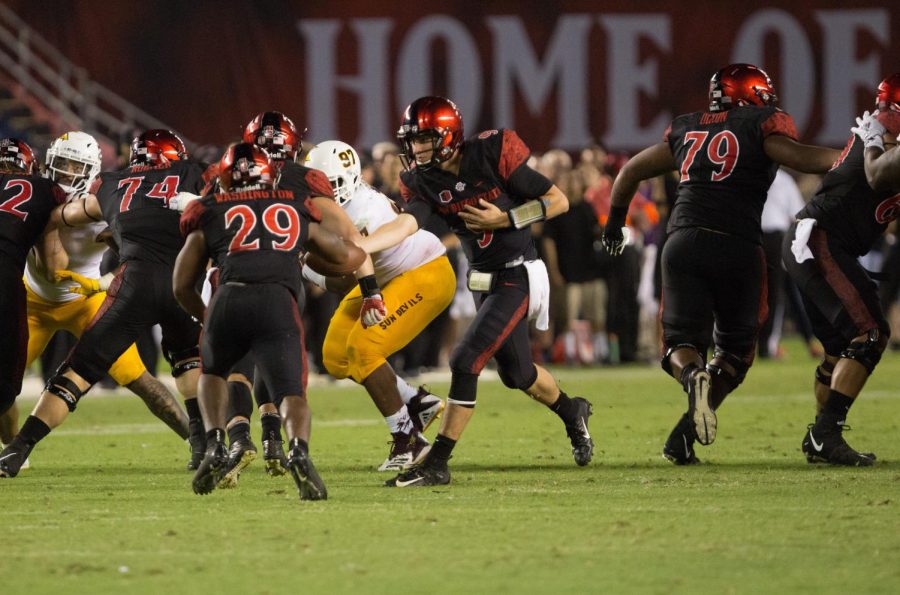 San Diego State junior quarterback Ryan Agnew played his best game in an SDSU uniform against the University of Nevada.
In the first half alone, Agnew threw for a career-high three touchdowns and 14 completions.
On Sept. 8, Agnew was called upon to fill in for senior quarterback Christian Chapman against Sacramento State after Chapman went down with a knee injury. Agnew threw 11-for-17 for 159 yards and two interceptions in the Aztecs' 28-14 comeback win.
Given Chapman's three-to-six week prognosis, he will be medically cleared to play Nov. 3 vs. University of New Mexico.
Head coach Rocky Long said that Agnew will start against the Lobos, but Chapman will get some playing time in his return.
"Christian Chapman will play. It hasn't been determined exactly when yet, but he will play at least one series in the first half," Long said. "We'll evaluate how he looks and how he does and develop a plan on well he looks."
Regardless of who is named the starting quarterback moving forward, Agnew deserves playing time for the Aztecs.
His big-play ability, mobility and potential should not keep him off the field, even if Chapman is eventually named the starting quarterback.
The last time the Aztecs had three passing touchdowns in a game was Nov. 5, 2016 against University of Hawai'i.
Agnew recorded a career-high in pass attempts (41) and passing yards (283) by the end of the game, although the Aztecs were held scoreless in the second half.
The most yards Chapman has thrown for in a single game was also 283, coming during his sophomore year against New Hampshire on Sept. 3, 2016.
Junior running back Juwan Washington, who remains sidelined with a collarbone fracture, said that Agnew did a nice job relieving the ailing Chapman.
"Agnew did a really good job coming in and making plays for our offense," Washington said. 
Agnew has a 5-1 record as SDSU's starting quarterback this season. His most notable wins have come against former No. 23/25 Arizona State and then-rv/No. 24 Boise State.
Offensive coordinator Jeff Horton said the decision on the starting quarterback will be made once Chapman is cleared to play.
"When (Chapman's) healthy, then we'll have to make that decision," Horton said.
One possibility for the Aztecs is the introduction of a two-quarterback system.
Horton said he has not ruled the idea out.
"It's something we could look at. Whichever way we go, obviously, Christian's the all-time winningest quarterback and has done a bazillion good things for us," Horton said. "Ryan has stepped in and, to me, done a remarkable job for us. To me, that's a good situation to have. I look at it as a plus. I think it makes the team better."
Chapman is held in high regard by the SDSU coaching staff and Aztec faithful due to his status as the winningest quarterback in school history, but Agnew has attributes that Chapman lacks.
In Chapman's career he has 53 rushing yards on 167 attempts.
Agnew, on the other hand, has 55 rushes for 181 yards.
Chapman, who prefers slinging passes from inside the pocket, differs from Agnew, who often rolls out to make passes on the run.
Long said that there wouldn't be much of a difference on offense when either quarterback plays.
"I don't think there's a huge difference. Christian won't scramble around like Ryan does, so there won't be as many guys trying to figure out where to go to get open like they do with Ryan out there," Long said. "So Christian will probably throw the ball a little bit more on time and that sort of thing."
Since his relief appearance against Sacramento State, Agnew has only thrown two interceptions in six starts.
Offensive coordinator Jeff Horton said Agnew's ability to take care of the football is essential to the offense's success.
"(Agnew has) done a pretty good job protecting the ball. He's obviously made a ton of plays with his feet," Horton said. "He's a weapon that way, just getting that experience is huge for him."
Agnew only threw nine passes during his SDSU career prior to this season.
Long said that Agnew has played well despite his lack of game time.
"I think he has played pretty well. I think he's just like the rest of our team that are not veteran players," Long said. "Even though he's been around a while, he hasn't played extensively until the last few weeks. He's made a lot of plays to help us win."
The Aztecs sit at 6-2, and part of that might be a result of Agnew's ability to perform well in late-game situations.
Junior tight end Kahale Warring said that Agnew has played a big role in the Aztecs' close wins.
"I think he's done a really good job. He's been through a lot of tough situations, and he's gotten us through a lot of tough situations," Warring said. "There's a lot of games where if he didn't make some plays right at the end, we might not have won those games."
Should Agnew continue to play quarterback for the Aztecs this season, each challenge he endures is a lesson learned.
With Chapman graduating, Horton said that Agnew's game experience is important, especially entering next season.
"Going into his final year, (Agnew has) got a lot of playing time under his belt now, so I think that's a win-win situation," Horton said. "He's proven he can lead this team and make plays down the stretch in crunch-time to help us win."