The extent of the COVID-19 virus in the music industry is still uncertain because concerts and festivals have been postponed, canceled or switched to virtual platforms. Despite the pandemic, music is still being released.
The Daily Aztec's Instagram account asked its followers to vote on three side-by-side album matchups throughout the past few weeks. These albums helped ease the transition into quarantine and demonstrated the amount of talent in the industry. 
Here are the results of the matchups.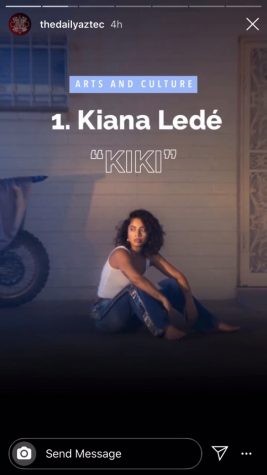 Kiana Ledé: "Kiki"
On April 3, Kiana Ledé released her debut album "Kiki," a dreamy and emotional tale of imperfect relationships.  
The album features an array of established R&B artists including 6lack, Ari Lennox and Lucky Daye.
In an interview with "Elle" magazine, Ledé said "Kiki" represents her childhood nickname and the album cover was taken in front of her former Arizona home. Also, she said this album is a way of letting out her emotions from the past year.
"All of the things I'm feeling right now are going to come out in songs six months or a year from now," Ledé said in the interview. "I'm able to be open about them because I'm talking from a healed place, a very removed place; I've already processed all those emotions."
The album features samples of numerous high-profile songs from the late '90s and early 2000s. Ledé's song "Honest." samples Brandy's classic ballad "Have U Ever."Another song on the album "Mad at Me." interpolates "So Fresh, So Clean" by Outkast. Ledé takes nostalgic inspiration from these songs but uses them to create her own anthems. 
The opening track "Cancelled." is about heartbreak and getting out of a troubled relationship with a lying boyfriend. Since the relationship is over now, Ledé is aware of the harmful things her ex has done and is effectively "canceling" all the bad men in her life. 
Another highlight is "Forfeit.," a seductive and passionate duet featuring Lucky Daye. The song's subject is a couple in the middle of an intense argument, determined to take a break before things escalate. 
Ledé shows off her impressive vocal range on one of the album's most popular tracks, "Second Chances." featuring 6lack. The two singers reminisce about how their relationships ended and refuse to give any second chances because of damage done in the past. Ledé sings "It'd be wrong for me to stay / 'Cause that means you got your way," expressing bitter feelings towards her boyfriend.
"Kiki" is a refreshing glimpse into the world of relationships through the trials and tribulations of Ledé's personal life. It is an impressive debut into a talented genre. 
Thundercat: "It is What it is"
On April 3, renowned bassist and jazz musician Thundercat released his third album "It is What it is." 
The album is dedicated to Thundercat's close friend Mac Miller, who tragically passed in 2018. Miller's inspiration can be seen throughout the album. 
The album's title comes from Miller's collaboration with Thundercat, "What's the Use." in the line "It's been awhile but I'm down 'till I'm out / and it is what it is 'til it aint." 
"It is What it is" finds Thundercat dealing with loss. It describes his personal journey through space to overcome grief, find love and emerge from darkness. 
The result is a 38-minute sonic adventure, showcasing Thundercat's funky basslines and falsetto melodies, as he attempts to conquer his fears and become a better man.
The album's lead single "Dragonball Durag," is an irresistibly catchy anthem which combines his love for anime and flirtatious swagger. 
The highlights of the song are a mesmerizing saxophone solo and a hook which begs the question "baby girl how do I look in my durag?" Thundercat told Apple Music that wearing a durag sets him apart from others.
"There are two types of people in the world: the guy with the durag and the guy who doesn't know what a durag is," Thundercat said in the interview. "The durag is a superpower, to turn your swag on, it does something, it changes you." 
Another standout track is "Fair Chance," a soothing but emotionally poignant tribute to Miller. The song features Miller's close friends Ty Dolla $ign and Lil B. Despite the tragic circumstances behind the song's creation, Thundercat told Highsnobsociety it helped unite them and give the artists a new appreciation for friendship. 
The album's title track is split into two halves. The song begins with a heartbroken Thundercat reminiscing about a failed relationship and ends with "So many things I wanna say / This is the end," as his voice fades out. 
The second half is an awe-inspiring instrumental and a final tribute to Miller. Thundercat's last words are "Hey Mac" followed by a breathtaking melody of percussion, brass and strings which carry the rest of the song. Though this section has no lyrics, this song is a climactic ending to the album, and Thundercat's way of saying goodbye to Miller.
"That's me in the middle, saying, 'Hey, Mac.' That's me, getting a chance to say goodbye to my friend," Thundercat said to Apple Music.
"It is What it is" perfectly combines Thundercat's eccentric humor and his emotional search for acceptance to create a harmonious R&B album. It serves as a fitting tribute to Miller and an impressive and creative statement for Thundercat.
Fiona Apple: "Fetch the Bolt Cutters"
After a reclusive eight-year period, acclaimed alternative singer Fiona Apple released her fifth album "Fetch the Bolt Cutters" on April 17. 
In a lengthy interview with NPR, Apple expressed her inspirations for the album and the meaning behind its title. Inspired by feelings of self-doubt and her disdain for public life, "Fetch the Bolt Cutters" means people should be fearless and have the power to liberate themselves. 
"Fetch your tool of liberation, set yourself free," Apple said.
"Under the Table" is an uptempo alternative song about speaking up for yourself in front of others when things are taken too far. 
In an interview with "Vulture," Apple said the song is about a dinner party she was forced to attend and her decision to speak up when a person said something offensive. Apple sings "Kick me under the table all you want / I won't shut up, I won't shut up," saying she won't be silenced when made uncomfortable. 
Another stunning track is "Relay," an intense, drum-heavy anthem about moving on from past abuse and holding her abusers accountable. 
Apple wrote the song's hook "Evil is a relay sport / when the one who's burned / turns to pass the torch" when she was 15, a few years after she was sexually assaulted. This line refers to the uncertainty felt when an abuser doesn't acknowledge their victim, and the victim's attempts to process their feelings.
Though the song refers to the abuse she's experienced, Apple told "Vulture" that Brett Kavanaugh's 2018 Supreme Court nomination brought back past feelings of innocence, guilt and forgiveness. Apple said Kavanaugh's disgruntled attitude towards his sexual assault accusations and his lack of accountability inspired her to make the song.
"Oh my God. Thank you, fucking Brett Kavanaugh, for letting my anger see the light of day: Thank you for being so horrible," Apple said.
Another exceptional track is "Cosmonauts," which highlights Apple's complicated feelings about monogamy. The song follows two lovers gaining gravity over time while they drift through space. 
This gravity can either mean the lovers have grown closer or they've drifted apart as time has passed. Neither interpretation is wrong, but Apple keeps the song open-ended because each cosmonaut has their own unique journey.
The album is an unapologetic statement, proving Apple is vulnerable but simultaneously fearless.
To vote on future polls, follow The Daily Aztec on Instagram here.