Men's basketball throttles San Jose State at home in 85-54 win
The Aztecs have won five straight games by 27 or more points — marking the first team to do that since Stanford in 1999-00.
by Luis Lopez, Assistant Sports Editor
February 9, 2021
San Diego State men's basketball has had its fair share of dominating performances this season, and Monday night proved to be yet another showcase of its capabilities.
Capabilities that were even more impressive considering one of their best players wasn't on the floor.
The Aztecs beat San Jose State by a score of 85-54 on Monday night at Viejas Arena, thoroughly crushing the Spartans on both sides of the ball to earn their fifth straight win (14-4, 8-3).
SDSU was without senior forward Matt Mitchell, who sprained his ankle two days ago and hasn't been able to practice since.
Monday's game started off close, with the score being as tight as 27-24 with about seven minutes left in the first half.
Then, the Aztecs closed out the half with a 13-1 run, heading to the locker room up 47-29 and only taking off from there in the second half.
Here are three observations from the win.
1. Big night for the offense
Senior guard Jordan Schakel stepped up the most in Mitchell's absence, dropping 23 points on 50% shooting.
He also went four of seven from beyond the arc to add to his performance.
The entire team played at a high level and Schakel said he was able to find success because of the smaller things he does to win. 
"I think that's what this program is built on, doing the little things — you don't win without the little things," Schakel said. "It doesn't matter how many points you score, you have to do everything right."
One thing that head coach Brian Dutcher said team did well Monday was come out with energy, which helped the Aztecs get opportunities for buckets.
"We're dangerous," Dutcher said. "We get great production so whether they start or off the bench we have a deep team … they are all productive when they get their opportunity."
Schakel said games like these are simply the players doing what's asked of them.
"It's what we needed to do, what coach asked us to do, and we just come out every night executing and just trying to get better everytime we step on the floor no matter what," Schakel said.
2. The return of Arop
After missing the past two games with vertigo, junior forward Aguek Arop made his return to the Aztecs bench, and they were happy to have him back.
Arop finished the night with five points, five rebounds and a steal.
While it may not jump out on the box score, his teammates like Schakel felt his impact instantly.
"I think (Arop), when he came in the game, it was like a two-point game and he got a big steal, (the box score) says he only got like five rebounds but it felt like 20, honestly," Schakel said.
Dutcher said he was pleased with Arop's night, but also mentioned how the team is in no rush to bring him back to his usual minutes.
"I think he felt great today and we probably could have got him some more minutes but we're easing him back in," Dutcher said.
The return of Arop brought the Aztecs help in the frontcourt, which in turn helped lead to the third takeaway on the night.
3. Dominance on the boards
The Aztecs had the advantage in just about every statistical category on Monday night, but the one that stood out the most was their rebounding.
SDSU made SJSU pay big time on the glass, out-rebounding the Spartans 54-30.
There was an even bigger gap in the offensive rebounds, with the Aztecs winning on that end 26-7.
When the ball got back in their hands, the Aztecs then punished the Spartans even further by torching them with 16 second-chance points.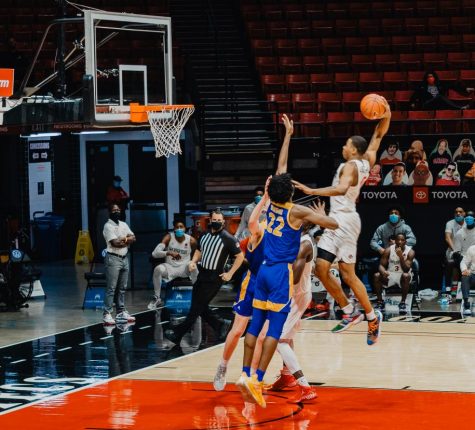 Despite the discrepancy, Dutcher still wished his team performed just a bit better with those extra opportunities.
"We had 26 offensive rebounds and that's a big number," Dutcher said. "I wish we would have finished a few more of them around the basket but we definitely attacked the glass against their zone."
Sophomore forward Keshad Johnson led the game in rebounding with 13 on the night, and Dutcher made sure to sing his praises after the game.
"Keshad's been big all year," Dutcher said. "He's had a couple big breakout games and what he did on the glass today was impressive.
"Keshad played with great energy. He plays under control and when he's under control he's at his best, so he just picks and chooses his opportunities when to attack and when he does, good things are happening."
Senior forward Joshua Tomaić said frontcourt play down the stretch of this season is going to be crucial for the Aztecs going forward.
"We had to play at a pretty high level for the rest of the game," Tomaic said. "March is around the corner, it's time to lock in."
Up next…
The Aztecs will wrap up the series against the Spartans this Wednesday at 8:00 pm. 
As for the return of Mitchell, Dutcher said he will have to be a game-time decision, and that if he can't go he is hopeful for the next series against Fresno State.
"We treated him hard and he wasn't able to go, so hopefully this added day or two of rest will help him and hopefully we'll have him back," Dutcher said. "If not, we have another layoff before Fresno so we'll have enough time to get him to hopefully get him healed up."