Former NFL player speaks about community at Black Resource Center virtual event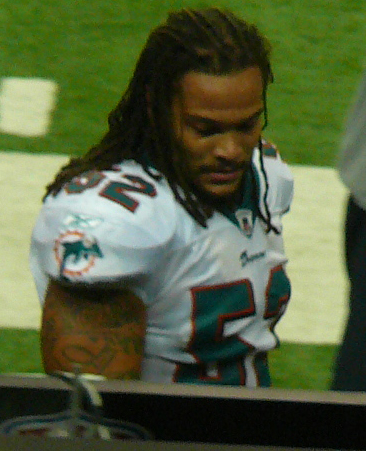 The modern professional athlete and spending money are synonymous. It was revealed in an article by CNBC that 78% of former NFL players face bankruptcy or financial instability only two years after they leave the league.  
Channing Crowder is not part of that 78%. Crowder grew up in Georgia, attended The University of Florida, earned first-team All-American honors for football and was drafted in the third round of the NFL draft to the Miami Dolphins. After playing 6 seasons in the NFL, all with the Miami Dolphins, Crowder decided to retire at the age of 27. Since then, Crowder has made it his mission to not only provide for his family but for his community as well.
Crowder paid a visit to a virtual event hosted by San Diego State's Black Resource Center on Feb. 16 to spread his wealth of knowledge to young students and athletes.
During the event, the former NFL player stressed the importance of giving back to the community while criticizing the mentality that successful figures adopt after they "make it out" of their former situation.
"You shouldn't try to get out, you should bring your wealth and knowledge back to your community," Crowder said. "If I made it, the rest of us didn't?"
Crowder felt that loving his community is as important as loving success. Something that is vital to being in Crowder's position to give back to his community immensely is financial security. 
The Georgia native knew that spending excessive amounts of money is something that plagues former and current NFL players. After his retirement Crowder diversified his income sources by owning a shark diving charter company, renting out Airbnb's, hunting boars, speaking at both the NFL and Miami Dolphins rookie symposiums, and having a podcast with fellow ex-NFL players Brandon Marshall, Chad Johnson and Fred Taylor. Crowder has also volunteered by speaking at The Boys and Girls Club and to various schools and universities across the country.
While speaking at the event, Crowder recalled the moment he knew he needed to get his finances in order. 
"In my second year in the NFL, my financial advisor called," Crowder said. "He told me I spent over $100,00 after the hours of 10 p.m." 
Learning valuable lessons from his mistakes, Crowder relayed his advice to the young crowd. He encouraged them to build a team of trustworthy people around them who can say "no" to irresponsible decisions and to find a purpose for making money in their journey to have three important things.
 "Longevity, liquidity, and a legacy," Crowder said. 
Crowder also touched on issues that are important to him in the NFL – one of them being the lack of diversity in NFL organizations
"The NFL was so quick to change the on-the-field play," Crowder said addressing the head trauma football players face. "But they're aloof when it comes to changing the administrative side."
Crowder criticized HBO's show Ballers and ESPN's 30 for 30 documentary Broke, both of which depict pro athletes – especially football players – spending exorbitant amounts of money, substance abuse, and the mistreatment of women. Crowder felt the shows enforced harmful negative stereotypes of African American athletes.
"Everyone loves a train wreck," Crowder said.
The audience agreed including Dr. Frank Harris III, a professor in SDSU's College of Education. Harris commented that Crowder should produce his own documentary to push back against negative stereotypes.
Isaiah Gentry, an SDSU mechanical engineering sophomore who was also a moderator for the event, shared his thoughts.
"He gave behind the scenes insight on what it was like to be a Black athlete as well as financial realities that Black athletes face," Gentry said. "He also expanded the scope beyond sports by talking in-depth on some of the things we can to better our communities. I was glad he was able to come talk to us."
When speaking about player safety Crowder reflected on the late San Diego Chargers legend Junior Seau.
"Junior was my dude. No one would have ever expected him to commit suicide," Crowder said. "Our bodies aren't made to do that. You don't see two guys on aisle four in the grocery store running into each other like that." 
If Crowder was ever offered the decision to go back and do things differently, Crowder said he wouldn't change a thing. Crowder relished the fact he was able to retire comfortably at 27 and give back to his community.
However, Crowder offered advice to some of the young athletes in attendance.
"Treat your body like a business, take advantage of technology," Crowder said. "If you're not taking advantage of every resource you have, you're ruining your business – don't take it for granted."
Crowder urged the audience to expand their exposure to successful people and to pick their brains as much as possible.
"A closed mouth doesn't get fed," he said. 
Crowder also lent advice to the minorities attending the event who felt out of place in school, work and sports situations. He explained how it was important to be unique, how they were special enough to be in the room and to not psych themselves out before they even got a chance to prove themselves. 
Crowder also dropped some nuggets of wisdom to everyone in the audience about meditation. He fishes twice a week but told the audience to find what relaxes them the most.
Overall, Crowder's event at SDSU's Black Resource Center was one of many talks he will give in his life, but they are all equally important to him. If anyone in the audience took in and retained the nuggets of information Crowder, that was enough. If any piece of information had stuck, it was worth it, he explained.
Mohamed Buul, a senior in interdisciplinary studies at SDSU spoke on the event as well. 
"His words were impactful to me because it was the first time I've ever heard directly from a Black athlete," Buul said. "I was really unaware of just how hard it is to make it to where Crowder got to considering his circumstances." 
At the end of the event, Crowder encouraged the audience to pass along their knowledge to future generations.
"Promise when you're my age, pass the knowledge down to the younger generations – let's keep it going," Crowder said.