Today, most college students rely on many social media platforms to network and represent themselves to the public. 
One issue presented is that there are many social media platforms that can make it more challenging to connect efficiently, especially with other individuals and business professionals. 
The Bridge Networking app allows its users to create profiles and link as many accounts as they want. Users can connect through the app itself or through a companion website with all their social media profiles and information under one link or scannable QR code. 
San Diego State business management senior and Bridge Networking CEO/Founder Isaac Javed created this idea during his sophomore year. For him, he thought of it as an easier way to connect with people.  
"I was tired of meeting hundreds of people every week," Javed said. "I didn't think there was any easy way to actually see who you connected with and where they were able to connect with you."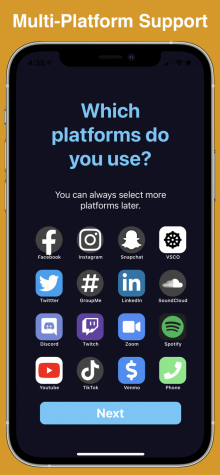 The idea of Bridge Networking was initially presented to Miramar College's incubator REC Lab, then Javed and his team presented the app to SDSU's incubator, the ZIP Launchpad, in fall 2020.
Bridge Networking follows a business-to-business model. The network focuses on businesses by helping them create connections with their customers through analytics to show businesses how their customers are connecting with them and to create a bigger social media following. 
The app launched on the Apple Store last September and started gaining traction by young individuals. There is a current user base of about 400 people, a mix of college students and young entrepreneurs.
Some may ask how Bridge Networking differs from other business platforms like LinkedIn.
Adrianna Lugo, integrated market communication sophomore and marketing direct co-founder pointed out the key difference between the two.
"LinkedIn is more of a job platform," Lugo said. "You can look for jobs. You can post about your job accomplishments or your educational accomplishments." 
With "Bridge," there are more options for users to share what they want to best represent themself to the public.
"Bridge is just a social media aggregator," Lugo said. "You can use Bridge socially and professionally."
Current users of the platform have expressed positive feedback about the new app and its simplicity. 
Another one of Bridge Networking's core principles is the foundation of privacy and transparency when it comes to the user's data. 
"We knew from the very beginning that it was really important that we actually protect our customers," Javed said.
There is a core focus on security. Privacy is important and no one is obligated to put anything on their "Bridge" if they do not want it public, the Bridge team said.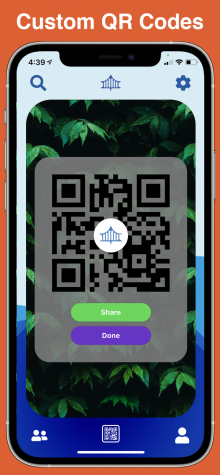 University of Maine senior and Chief Technology Officer and co-founder, Michael Gecawicz, explained how third parties will never have access to any of the user's personal data. There is an emphasis on the app being an indexing service to make it easy to share information that is desired.
"We never ask our users for login information on their other platforms and we have full transparency about what data we have and give our users total control over what they share," he said.
Users have control of the in-app settings and have the ability to access options like turning off their location or hiding their email if they do not want it to be shared at any point in time.
Having user data secured and personal privacy implemented as a core feature is to encourage the customer to trust the app, the Bridge team said.
A future segment of Bridge is to expand to businesses and other companies to help expand social media presence. 
"Bridge is a really good alternative for businesses," Gecawicz said. "Something that is super clean and super simple to use and is very informative for all our users." 
The future of the simple-to-use system, from signing up to staying connected, has high hopes from the Bridge Networking team to be the new solution for easier and more efficient connecting and online expansion through bigger companies and corporations.
To find out more information about Bridge Networking, follow their Instagram here.