Defense dominates in football's annual spring game
The competitive spirit was in the air at San Diego State on April 30, as SDSU football put on a show for friends and family at the team's annual intrasquad spring game.
The close contest resulted in a victory for Team Aztec, as it took down Team Warrior 10-3. The winning team received a steak dinner for its efforts, while the losing team got hot dogs on paper plates with plastic utensils. 
This game was about much more than steaks and hot dogs, however, as it marked the end of the team's spring practices, as well as it being the first time Aztec football has played in front of any sort of home crowd since December 21, 2019, at the New Mexico bowl.
Head coach Brady Hoke said it was nice to play in front of fans again.
"A lot of the parents came down," Hoke said. "Really great to see them. Can't wait til the fall when we'll be able to have fans and everything else."
The crowd watched a battle on the hot Friday afternoon featuring a dominant performance from the defense, but not from one particular position group or specific player in this game.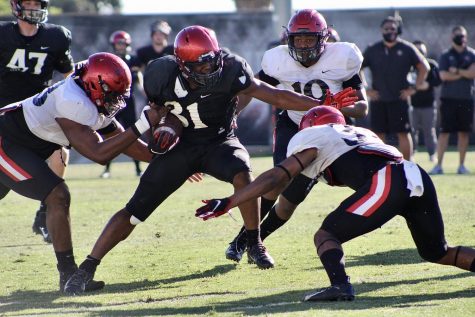 For Team Aztec, sophomore defensive lineman Dylan Taylor (six tackles, two sacks), sophomore linebacker Garret Fountain (eight tackles, one tackle for loss, one pass deflection) and senior safety Adonis Brown (four tackles, one pass deflection) were key players in not allowing a single point to come from the offense.
On Team Warrior, sophomore linebacker Vai Kaho (seven tackles, three sacks) led his defense to dominate Team Aztec, making 11 tackles for loss, including four sacks, two pass deflections and a fumble recovery. 
Both teams combined to have 15 tackles for a loss, including a total of six sacks, seven pass deflections, two recovered fumbles and one interception while giving up a measly 13 points.  
Where there's plenty of positives on the defensive side of the football, the offensive side left a lot to be desired. 
Leading Team Aztec behind center was senior quarterback Lucas Johnson, who completed just five of his 14 passes for 88 yards and the only touchdown of the game caught by senior receiver Ethan Dedeaux. Hoke says Dedeaux had been steady through the spring and thinks highly of him as a leader. 
"I think (Dedeaux) has done a really nice job," Hoke said. "I think he's a guy who has shown toughness and love for the Aztecs." 
Team Warrior had a couple of quarterbacks with 12 or more pass attempts — both with minimal success.
Sophomore Jalen Mayden completed five of his 12 throws for 83 yards while rushing the ball twice for 13 yards. Senior quarterback Jordan Brookshire completed four of his eleven throws for 55 yards. 
The lack of production at the quarterback position was something that surprised Hoke during the game. 
"For the first 14 days (of spring practices) I thought all three of our quarterbacks did a lot of good things; today we didn't play as well," Hoke said after the game. "We still have a lot of confidence in each and every one of them, but I don't think we played as well or made a couple of decisions a little better."  
Sophomore running back Jaylon Armstead continued his impressive spring, churning out the most efficient stat line for rushers on either side with 12 rushes for 50 yards for Team Aztec.
Senior running backs Greg Bell (six rushes, 18 yards), Chance Bell (seven rushes, 14 yards) and Kaegun Williams (three rushes, 10 yards) combined for 2.6 yards per carry.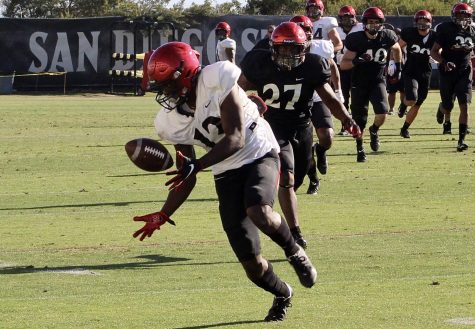 Only four receivers received at least two passes for either side— three of the four for Team Warrior. Team Aztec's lone receiver with multiple catches was Dedeaux with two catches for 76 yards and a touchdown.
For Team Warrior, freshman receiver Darius De Los Reyes led in receptions catching three passes for 35 yards. Junior wide receiver Jesse Matthews led with 58 yards on two catches while senior receiver Isaiah Richardson caught a couple of passes for 44 yards. 
Lockdown defense coupled with inefficient offense made for a somewhat uneventful spring game for the Aztecs with apparent adjustment, but the game signifies so much more than just any other scrimmage. To Hoke, this spring game is a milestone.
"Last spring we only had the opportunity to have six practices," Hoke said. "As you look back, you're really thankful that we got to get through a whole 15 (practices this spring)."   
The conclusion of the spring game signified the end of spring practices as student-athletes prepare for finals. The team will resume preseason work on the field this June.