In-person commencement continues by honoring humanities, engineering and business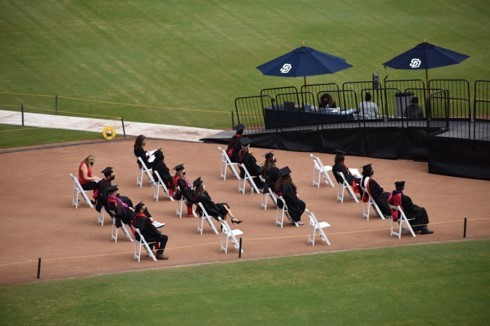 On May 26, the 2020-21 graduating classes of the College of Arts and Letters, College of Engineering and Fowler College took the stage at Petco Park for their graduation ceremonies. 
College of Arts and Letters
On May 26, the College of Arts and Letters graduating class of 2020 and 2021 graduated from San Diego State. 
The long-awaited in-person ceremony took place at Petco Park, relocated for a safer experience for students and families. It was live-streamed on SDSU's Commencement Website and YouTube for those who could not come in person. 
Due to the size of Petco Park, cameras showed graduates in the stands and they appeared on the Jumbotron. The countdown to graduation showed the students' excitement as they would soon become SDSU alumni.
With a final countdown, Dean of Arts and Letters Monica Casper, Ph.D. welcomed everyone to the ceremony. Television, Film and Media student Victoria Matlock then sang the National Anthem.
SDSU Tribal Lesion Jacob Alvarado Waipuk then proceeded to lead the Kumeyaay Land Acknowledgement. 
Introduced by Provost and Senior Vice President Dr. Salvador Hector Ochoa, Ph.D. were the colleagues and guests attending the ceremony. He then introduced and welcomed President Adela de la Torre to take the stage.  
"You are graduating during an exciting time and above all else, a hopeful time," de la Torre said. 
De la Torre gave acknowledgments to the SDSU nursing students who are helping out at vaccination sites, students who ran a dance marathon to raise money for Rady Children's Hospital, and the achievements of the men's basketball team and women's track team. 
The students who earned their Masters of Fine Arts degrees went first. These graduates were seated with faculty closer to the stage. They could be identified by the brown hoods draped upon their shoulders. 
Offered in 78 different areas at SDSU, the degrees are attained with the completion of a project or thesis in the MFA category. Specific colors represent the degree they earned.  
Unfortunately for both, they could not do the traditional hooding ceremony, a right of passage where students are "hooded" on stage. 
Lastly, the recipients of the bachelor's degree were honored, those graduating with extremely high GPAs received Cum Laude, Magna Cum Laude and Summa Cum Lade, and then were bestowed their bachelor's degree. 
Jose Miguel Alvarado, who earned the distinction of Outstanding Graduating Senior in the College of Arts and Letters spoke on behalf of the graduating classes. He led the traditional turning of the tassel ceremony. 
He acknowledged the hard year students experienced and how each graduate worked hard for this moment. Instead of reciting a poem, he asked students to find one in themselves.  
"Let it be like the affection and the gratitude which are moving effortlessly around us today like music, like radiant air because now we can bear the weight of hope together," Alvarado said. 
With a final congratulations, students were welcomed to start lining up to walk across the stage. Due to restrictions, graduates and administration didn't shake hands per tradition. They also weren't handed their degrees. 
Maxton Young Wallett, a history major, recalled his day in Petco Park. 
"It was truly amazing, I think we are very lucky to have been blessed with an opportunity like this out of the pandemic," he said. "It made my accomplishment feel a lot more worthwhile in this symbolic moment."
Political science graduate Armando Sepulveda II recalled his experience at Petco Park, although it was hard to find parking and the heat. 
"The best part was the atmosphere, Petco Park is a beautiful stadium, a beautiful venue and it was remarkable," he said. 
Sepulveda in the future will be working for Lead for America on a fellowship and debating which field he will enter next. 
Sociology graduate Sierra Macleod, had only positive words to say about her experience at graduation.
"They (SDSU) did a really good job at making it happen, a lot of universities didn't have that and just did it the online way," she said, "It was a great experience and very well organized."
Macleod said she is sad to leave SDSU behind but Macleod will continue her education in New York City to earn her master's in sports management. 
College of Engineering
The College of Engineering graduation ceremony followed a few hours after the College of Arts and Letters.
The Dean of the College of Engineering, Eugene Olevsky, Ph.D. took the stage to address the graduating students.
"With the wisdom you have gained at SDSU, you are now empowered to go forth and build a future as you wish to see it. Your journey as engineers, as builders of tomorrow, begins now," Olevsky said.
De la Torre took center stage to congratulate the 2020 and 2021 Engineering graduates, speaking highly of how these classes made it through a difficult time. 
Additionally, a tribute honoring those who served in the US armed forces and a moment of silence followed for those who lost their lives during the pandemic.
Olevsky took the podium to speak about two men recognized for receiving the honorary degree of the Doctorate of Science, the highest honor an institution can bestow.
"In the 124-year history of the University, only 52 such individuals have been similarly recognized," Olevsky said.
Reviewed over and over, items to receive this award must meet the objective and ideals of the SDSU. De la Torre spoke about the specifics of this degree, which is not something one can apply for.
De la Torre invited the first recipient, Massi Joseph E. Kiani to stand next to her, while she presented citations that made him eligible for this degree.
He is the founder, chair and chief executive of Masimo, a medical device company. Kiani serves as a long-time member of San Diego's State College of Engineering Advisory Board.
He received both his master's and bachelor's degrees at SDSU and is finishing off strongly by earning his doctorate. 
Kiani took center stage, thanking de la Torre, the Board of Trustees and the professors at SDSU for inspiring him.
"Whatever you do, do it in an honorable and ethical way," he said.
Next, de la Torre honored Stephen P. Doyle, an alumnus of SDSU where he earned his degree in 1980.
He is a long-time member of the SDSU College of Engineering Dean's Advisory Award. He was instrumental in establishing a construction engineering and management program at the college. He has also been rewarded with the Monty Award.
His leadership helped pass Measure G to purchase the Mission Valley properties for SDSU.
"His extensive ground in law and real estate was vital in the land acquisition that took almost two years to complete," de la Torre said.
He encouraged the graduates by reminding them they are problem solvers and are ready to take on the world and contribute to it. This sent the graduates to cheer and clap loudly at Doyle's words.
"One thing that will never change, as of today, you are an engineer. You can evaluate risks and solve problems; you get things done, that's what Aztec engineers do," Doyle said.
Next, the conferral of doctorate of philosophy, master's, and recipients of the bachelor's degree were honored. 
Unfortunately, they could not do the traditional hooding ceremony. Instead, their hoods draped proudly on their shoulders, blue identified the doctorates and orange identified masters.  
David Pierce Walker-Howell, who was highlighted as an outstanding graduating senior in the College of Engineering, spoke on behalf of the graduating classes. He led the traditional turning of the tassel ceremony.
"Great engineering requires being open-minded to achieve innovation and improvement. We need to be willing to consider new, even seemingly ridiculous ideas," he said. 
With a final congratulations, students were welcomed to start lining up to walk across the stage. 
Fowler College 
One of San Diego State's largest graduating classes from the Fowler College of Business took to the field and lower level sections of Petco Park for the week's only evening ceremony. 
The ceremony closed out the day's events with an estimated 13,000 graduates and guests attended Petco Park for the day's celebrations.
Dr. Bruce Reinig, Interim Dean of the Fowler College of Business, kicked off the ceremony. 
"This year's commencement takes on special meaning as it occurs at a time when we have reason to be hopeful that we are reaching the end of the pandemic," Reinig said. "But despite all the challenges and setbacks; you have succeeded. You have reached this cherished day. You have my heartfelt respect and admiration." 
From the top of the ceremony, this graduating class of 2020-2021 was the week's loudest. De la Torre was called to the lectern, although much of the beginning of her speech was drowned out by boos.
Janmae Pagador, graduating with a Bachelor's of Science in management information systems, was seated in the section next to the group of boisterous graduates.
"There was a group of fraternity boys just sitting in one section and it was really uncomfortable to hear them boo our president, Adela de la Torre for her entire speech," Pagador said.
Pagador said the disruptions coming from the graduates became more uncomfortable as it continued. "I really felt bad for her," Pagador said. "All of our parents are there and that's the kind of environment and reputation we're making for our fellow grads of the Fowler College of Business."
Despite the interruptions and behavior coming from the graduates in the stands, Pagador said she still had a memorable evening and experience at Petco Park. "I think overall it was still a good experience, just one that I wasn't expecting," Pagador said.
Before the conferral of the masters and bachelor's degrees, Dr. Jessie J. Knight, Jr. received the university's highest honor, Honorary Doctorate of Humane Letters. As of Wednesday night, only 53 honorary degrees had been awarded by SDSU in 124 years.
Knight's decades of service have led him to his current role as managing director of Knight Angels, LLC. The private equity fund provides financial support to community projects headed by veterans, women and other minorities. 
"I stand before you as a Black man reared in true poverty in a small town called Springfield, Missouri," Knight said. "I stand on the shoulders of my 93-year-old father who only went to the third grade and a mother who only finished high school in a segregated school."
"The fire they instilled in us to always reach high, produced five children that went on to have successful careers in Fortune 500 companies and in the high ranks of federal government," Knight said.
Knight urged graduates to ignore the probable incoming messages saying opportunities are limited after commencement and to use his bestowal of the university's highest academic honor as proof. 
As the graduates sat reflecting on Knight's remarks, they were also reflecting on their time at San Diego State. This year's commencement was also a reunion for graduates and also a time to meet other graduates in person for the first time. "It felt unreal, almost. I saw a lot of faces I've only seen on a computer screen," Pagador said.
Similar to most double majors, Pagador has endured her share of all-nighters in the library with her friends. Pagador said she took those late nights studying for granted and those are the memories she will hold on to as she leaves SDSU and enters the early chapters of her career. 
"I just felt really grateful because I got the opportunity to walk and see some of my friends one last time before all going our separate ways," Pagador said.
The ceremony officially concluded approximately around 8:15 p.m. with the final graduate's recognition, Richard Wilson, who graduated Magna Cum Laude with a Bachelor of Science in Business and Finance and with it came the end of the second day of commencement ceremonies.