Luke Hemmings launches solo career with debut singles 'Starting Line' and 'Motion'
For nearly a decade, Australian pop band 5 Seconds of Summer (5SOS) has given the world multiple chart-topping albums. Starting off as just four friends who wanted to make music in 2011, they toured with the world-renowned pop group One Direction and grew in popularity.
Fast forward to 2021 and nearly a decade of being a band together, they are experts on reinventing their sound time and time again.
On June 28, Luke Hemmings, one of the lead singers and guitarists of 5SOS announced the release of his first solo album, "When Facing The Things We Turn Away From" which will be released everywhere on August 13. With this news, Hemmings also released the album's first single, "Starting Line" — a song that grazes influential synthetic beats, which can be heard in previous projects like the 5SOS 2020 album, "CALM." "CALM" was a more relaxed yet upbeat album with more of a heavy focus on synthetic beats than instruments.
In "Starting Line," the first thing that can be heard is a more sci-fi prominent sound, and it only takes a couple of seconds before listeners can indulge in the journey that Hemmings encountered in a year of isolation.
For him, the song was one of many that allowed him to further decipher his own life, helping him turn inward and realize that everything he's been through granted him a better sense of who he is as a person today.
For listeners, they most likely will be able to relate to this theme as everyone was in a year of self isolation due to the COVID-19 pandemic.
"I wake up every morning with the years ticking by

I'm missing all these memories

Maybe they were never mine" 
It can be challenging to sit down and enjoy the little things in life when living a superstar lifestyle such as Hemmings. For years, it's been nonstop touring, promoting, and marketing for him and his bandmates so it is possible moments that seem insignificant to listeners are ones he never got to fully enjoy.
That makes this song that much more relatable.
As things are starting to look up, the last year in isolation was difficult for most. Many people wished they could be doing things they've always enjoyed doing, but with COVID-19, that made those things nearly impossible. When we realize there are things we can't do, we value them more. There is a sense of appreciation for things that has grown from the pandemic and by the outro of "Starting Line", this was made clear in the hopefulness Hemmings expressed as well as his willingness to stay in the moment.
Recently, as of June 21, Hemmings released another song off his album, called, "Motion."
"Motion" has the same theme of time moving forward, except there is this feeling of loneliness being expressed. In the song, Hemmings is trying to find a balance while being alone with himself.
"Motion" is a bit different from "Starting Line" musically, and there is a noticeable heavy presence of drums and guitar. It has a distinct sci-fi feel to it, as the listener can hear echoes throughout the song. Compared to "Starting Line", Hemmings takes a couple extra seconds in the intro before allowing the listeners to hear what he's trying to communicate.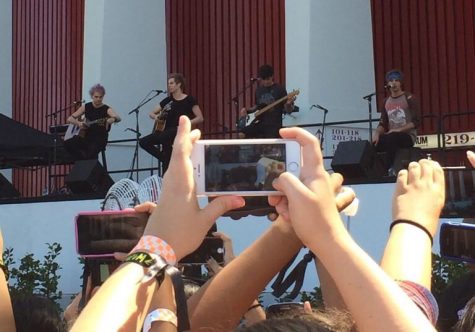 With Hemmings always on the go, traveling and performing with the band, he had difficulties coming to terms with the pandemic abruptly shutting the world down and being in lockdown.
In the song, he talks about being deceived, as if he were lying to himself about who he is. It's almost a cry for help to him to realize he has been trying to find himself during all this newfound time away from the chaos and busy schedule.
If the two songs that have already been released are any indication of what the rest of the album will sound like, musically, it will transport the listeners to a familiar world, but lyrically, it will showcase the deeper revelations Hemmings experienced while the world was in lockdown mode. By the end of the album, the assumption is he would soon realize who he is, and how he was able to get through this past year.
The full album, "When Facing The Things We Turn Away From" will be released on August 13.