Women's Soccer feast on Mountain West opponents on the Sports Deck
San Diego State vs Boise State
The San Diego State Aztecs (5-7, 3-1 Mountain West Conference) upset the Boise State Broncos (7-4-1, 1-2-1 MWC) 2-0 behind an amazing performance from freshman forward Denise Castro, who scored one goal and assisted on a second goal scored by junior forward Rachelle Elve. 
The Aztecs got off to a hot start and were aggressive early. The aggressiveness paid off in the 19th minute after a flurry of opportunities ended with Elve finally putting a goal in the back of the net off a dazzling behind-the-back assist from Castro. 11 minutes later, Castro stayed hot with a great move to create space from the defender and used her left foot to put the Aztecs up 2-0 after 30 minutes. 
"I feel like a personal goal for me is just winning games and everyone getting to do their best," Castro said. "Scoring always feels good, and (getting teammates involved) is a personal goal as well." 
With her outstanding performance tonight, Castro improves her season stat line to six goals and one assist. This performance puts her second in the MWC in goals (six) and fifth in total points (13).  
Whenever there was an opportunity developing for the Aztecs, Castro was in on the action. When being asked what her presence means to the team, head coach Mike Friesen said "One of the things she does for our team is she gives us the ability to get forward because she is able to hold the ball, get people off balance, and create out of that position as well."
Physicality became a theme of the game with a combined total of 27 fouls — 12 by the Broncos and 15 by the Aztecs. Friesen noted that his team typically isn't so aggressive and a physical playstyle does not favor them. 
"Typically against this team no, they're a little bit bigger than we are," Friesen said. 
Coming out of halftime with a 2-0 lead and after having a majority of the possession in the first half, the Aztecs shifted into a more conservative playstyle in an attempt to preserve their lead. After 10 shots in the first half by the Scarlet and Black, they only managed to get off four in the second half. 
All of the Aztecs' wins this year have been shutouts, mostly due to sophomore goalkeeper Alexa Madueno — the MWC saves leader. She only had to make three saves against the Broncos thanks in large part to the Aztec backline. 
"I think my backline stepped up and did honestly the best they could, and I think that's the best I've ever seen them play," Madueno said. 
The shutout was threatened in the 82nd minute when a Bronco header appeared to be heading into the back of the net, but Madueno fully extended to her right to preserve the zero-goal night for the Broncos on her third save of the game. 
When being asked how this incredible save felt, Madueno said "I didn't really have a feeling, I just took off and dove. I practice that all the time at practice – and I just dove 'cause I didn't want to get scored on."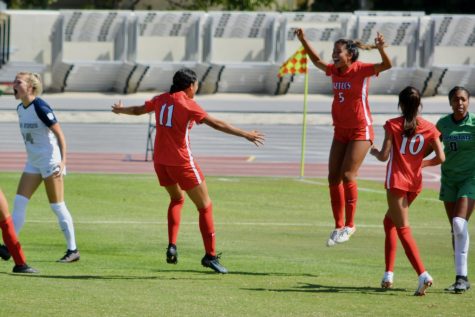 San Diego State vs Utah State
The San Diego State women's soccer team shut out the Utah State Aggies (9-3-1, 2-2-0) Mountain West Conference) 2-0 on Sunday, Oct. 3 at the SDSU Sports Deck. The Aztecs had back-to-back victories this weekend, the prior one being a 2-0 defeat against Boise State on Friday, Oct. 1. 
The first half was played out evenly under sunny 90 degrees Fahrenheit weather. Castro was the closest to making the crowd scream with excitement in minute 37 when her teammate, freshman forward Sarah Funk, passed her the ball and Castro shot the ball from five yards out. Unluckily, the Aggies' goalkeeper Diera Walton caught it and the Aztecs and Aggies were tied 0-0 by halftime. 
Sophomore forward Emma Gaines-Ramos intensified her game both offensively and defensively coming into the second half. Thirteen minutes in, Gaines-Ramos sprinted down the left side of the field, beat the goalie to the ball, and scored the first goal of the game as well as her first collegiate goal.
Gaines-Ramos said she finds it enjoyable to play with her teammates now that she sees they are getting stronger chemistry as the season moves forward.
"It is a lot of fun to play off each other and we are getting a lot more comfortable and a lot more chemistry with each other," she said. "I feel like the more that we go in the season, the more dangerous we are going to be as a trio up top so I am really excited to see what we have in the future."
Fifteen minutes passed after the first goal, the Aztecs continued to give their all. On minute 72, another big cheer resonated the SDSU Sports Deck as senior forward Anna Toohey scored the second goal of the game and her first one of the season. 
Toohey's scoring goal was set up flawlessly. Senior defender Malia Kaleiohi took a long shot pass into the box where sophomore midfielder/forward Olivia Sekimoto took the chance to tip the ball for Toohey to score.
Head coach Mike Friesen said that Gaines-Ramos and Toohey have done a very good job at helping other teammates get goals throughout the season, but he is very happy to see both of them score goals themselves this time.
"Having Gaines-Ramos and Toohey score this year, it is a huge relief I think for them personally," he said. "They have played really well, they have created chances for other people, they have created goals for other people, but for them, both to get goals today is massive for us going forward just that they kind of have that confidence and a sense of relief that they can go do what they do."
Friesen said it was a huge weekend for the Aztecs getting a pair of victories against two really good teams. 
"It has been a bit of a struggle in terms of some of the results (this season)," Friesen said.  "Although we have played really well at times, to have those things kind of come together this weekend is fantastic so I think it is just the momentum builder moving forward in the conference."
The Aztecs will be playing their next Mountain West game against the University of Nevada, Las Vegas at 6:30 p.m. on Friday, Oct. 8 in Las Vegas.