Alexandra Davis is a senior majoring in journalism and media studies at San Diego State with a zealous interest in modeling, photography and music. She has an enchantingly animated view of the world. 
Davis grew up in a comforting, diverse environment in Gardena, CA, where she learned to live among various cultures and communities and grew to love several types of music, with tunes from her parents' music selections still remaining a source of comfort to this day. This includes hearing India.Arie, Adele and U2 from among her mom's personal favorite artists throughout her childhood, and listening to Prince, Michael Jackson and Kool & the Gang with her dad during car rides to school. 
These musical moments planted the seed, and Davis began pursuing her interest in the arts during high school, where she became (and still remains) a self-proclaimed dork for musicals. Similar to media like "High School Musical" and "Victorious" where characters burst into song, Davis embraces the idea of fantasizing about life romantically through daydreams with a soundtrack attached. 
When first attending SDSU, Davis dove in head first by performing at several open mics in her freshman year and GreenFest's The Rooted Festival but felt scared because of an inescapable need to prove herself. Presenting herself as an artist invited people to put her on a pedestal, and in turn, become naturally judgemental. Plus, attempting to sound unique and stand out from the crowd presented its own world of challenges, which forced Davis to mature as an artist by the time her sophomore year came around. 
"I feel like in the beginning I would never really define myself as an artist because I was scared to be at SDSU and to say I'm a singer," Davis said. 
Though the COVID-19 pandemic ended her sophomore year abruptly, Davis took all the chaotic change in stride. She took a huge leap in her creative journey by pushing herself to carry out more creative ventures, which evolved into planning photoshoots with her close friend and frequent collaborator Shannon Williams, ultimately helping to present herself more confidently. She began expressing her feelings and intentions through her wardrobe, whether it meant dressing cute or in rockstar apparel. By stepping out of her comfort zone and branding herself, Davis became more serious about her craft.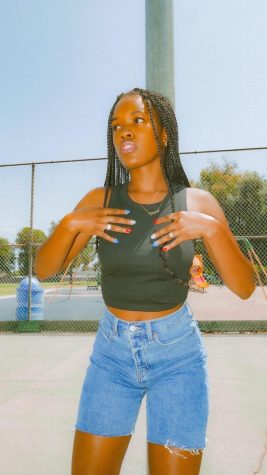 "I changed a lot of myself, I was able to get into fashion – put myself out there even in situations where it wasn't that great of an experience, I was like 'I did it,'" Davis said. 
This artistic rejuvenation period also applied to Davis' musical aspirations as well.
On May 15, 2021, Davis' 21st birthday, she released her debut single (as "alexandra!") called "birthday (I'll be alright)." The song was born from Davis' personal birthday experiences, which have ranged from disappointing to disastrous over the past several years. 
The songwriting process had been ongoing since November 2020, and even with a satisfying final product, that day didn't go perfectly either. The song's lyrics reflect all the uncertainty, the stressful planning stages, and the high expectations of birthdays that failed before they could even begin, all with the realization that things will somehow work out in the end. 
"I'll never know if I'll be fine on my birthday but no matter what I'll be alright eventually," Davis said.
While creating, Davis gets lots of insight from animated television shows and movies, including "Adventure Time," "Avatar: The Last Airbender" and "Naruto," along with Pixar films. More specifically, the lessons, messages, and artistry from Studio Ghibli movies, especially director Hayao Miyazaki, give her spurts of creativity to expand her mindset and create to a greater extent than ever before. 
"It's nothing short of extreme inspiration because there's no way you can get out of those and not feel like you have to just create the world," Davis said.
Davis considers animation to be her biggest motivator and rival since it constantly encourages her to top everything she's seen and to create art bounds beyond any animated/fantasy world. 
"I want to do the unimaginable, and I feel like animation consistently does the unimaginable," Davis said.  
Another major inspiration of hers is Pokémon, and a Pokémon-inspired photoshoot she and Williams organized last year sticks out as a personal favorite. Davis styled herself with items and accessories from Depop and while decked out in trainer gear, complete with a Charizard and HP bar edit to embody the spirit and style of the Pokémon video games and television series, her love for the franchise was emphatically on display. 
"I felt cool, I felt cute, like that was everything to me and it was my fantasy come true. That's what I feel is fun about being an artist because you can see everything you want come true if you really just do it," Davis said.
When planning photoshoots and gathering outfit ideas, Davis takes inspiration from television, Pinterest, and fashion books she filled out as a kid. She prints out body pictures and uses a stencil and goes over the picture to create a certain look. On Instagram, she'll tag any homegrown or local brands she wears in a photoshoot to fain further exposure and she uses Depop or thrift stores as sources for fashion to avoid big chains and manufacturers. 
Though there are always certain limitations when it comes to putting together the perfect look or an extravagant photoshoot, Davis said it's always better to dream big than limit yourself. This also applies to her role as Kolorhouse SDSU's events coordinator where she plans photoshoots while accounting for a collective team vision of how a shoot should look. 
"It can always be better but sometimes the things that we create are supposed to be that way," Davis said. "You're supposed to have big, extravagant ideas and still create something simple and have it be just as great and not too much, it's perfect in itself."
At the end of the day, Davis wants anyone who doubts the significance of art to embrace their own artistic passions, even the ones left behind in their childhood. By embracing her own passions, Davis has made her creative desires a central focus in all that she does. 
"I wish people understood that it's not weird and it's just as important as anything else. Creativity and inspiration drive so many things," Davis said. "Artistry drives the world."    
Students can catch a live performance from Davis at the GreenFest concert kickoff event on Friday, April 8, where she'll be debuting new music in the Aztec Student Union.