Anti-abortion group's two day display initiates counter protest on campus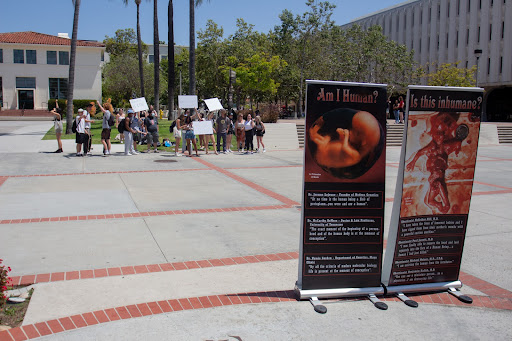 Monday morning students walking by Hepner Hall were greeted by an anti-abortion group. 
Ella Bast, an undeclared freshman at San Diego State was handed a pamphlet and threw it away after she saw what was inside. She said it was hard to see the images and what the group was saying went against her beliefs but understood it is a public campus. 
By 12:30 p.m., the Project Truth group had grown in number and had set up large signs with depictions of dismembered fetuses. Students started to gather to counterprotest the group. 
"There are people here with a bunch of different opinions, and I understand that everyone needs to be heard," Bast said. "I am just unsettled by it and the fact that it's here."
William Wilberforce, a member of the anti-abortion group with Project Truth, has been doing this for 15 years. 
"We go to all the colleges' campuses and present the view that an abortion is an act of violence that kills a baby," Wilberforce said."The pictures paint a thousand words so we found (the signs) to be very effective."
Sophie Scholl, another member of Project Truth, said many people do not actually know the process and full information about abortions. They wanted to show the injustices of abortion and offer resources to students. 
Scholl said they were open to conversations and debates but had mixed reactions from students.
"We always encourage civil dialogue," Scholl said. "That is what makes America so great is having differing views and talking about it reasonably." 
Sydney Hoke, an SDSU student, chose to return at the end of one of her classes after passing by and seeing the signs, to ask them questions.
"They responded with the same stuff that's found in their pamphlet, there wasn't much clarity just pushing the agenda of pro-birth," Hoke said. "It's really disappointing to see them here, and I wish they would leave."
Mechanical engineering fourth year Aldo Rojas said he was frustrated with how the campus was handling the situation.
"I think the campus should be the first line of defense," Rojas said. "They should recognize that this could be a very traumatic thing for students on campus to witness and hear about."
"This isn't a matter of free speech," Rojas said. "These people are trying to harm students emotionally." 
The university said it is ready to provide support to students in regards to the graphic images on the signs.
"The organization did not initially submit a request through the system and, after being informed to do so, submitted the request and met the requirements per university policy (see the Building & Grounds Regulations) and was, therefore, permitted for a designated space," the university said, in an email. "In an effort to support freedom of speech on campus, the university legally cannot consider the content of an activity or speaker in its review or permitting processes."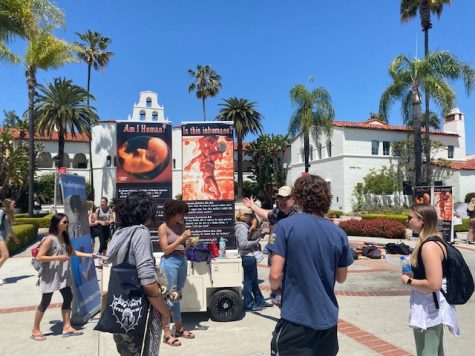 Wilberforce said he gets different responses from students and staff at each different campus, but some appreciate the opportunity for civil discourse. 
"A lot of students here are in an echo chamber. We are here to disrupt the echo chamber," Wilberforce said. "We are here to say, hey guys there is more to life than what you are being spoon-fed."
Randi McKenzie, an emerita assistant dean at SDSU, was walking to a meeting when a student on the counterprotest side called out to her.
"I think it is important as an educational institution to share different perspectives on given issues," McKenzie said. "If one side of a debate is there, it is very positive to have an alternative side that is what free speech is all about."
She said it was the right of the group to choose to come to a public institution to share their opinions and it's the right for students to share theirs as well.
"I always love to see our students engaged," McKenzie said. "I love that they are participating in political issues and raising debate."
Kiarra Mapp, political science major, and president of Turning Point USA at SDSU, was at the second day of protests. 
She said she felt compelled to join the anti-abortion group after one of her classes and stayed for over two hours.
"We have three groups of people with us here today we have the pro-life, the pro-choice group and people who are generally interested in what we have to say," Mapp said. "The biggest difference between all three of us is how we are handling the situation in total." 
She said the pro-choice group was being reactionary and using a mob mentality instead of having a civil conversation. 
"People are going to believe what they want to believe and it's up to our optimism and willingness to have a conversation to really get anywhere," Mapp said. "All of this reactionary – all of this clinging to emotion is not helping anyone." 
Mapp said, unlike the counterprotesters, the anti-abortion group was not going into people's faces, calling names or be threatening unlike reactions from the counterprotesters. 
"Civil discourse is about learning the other side," professor of communication Michael Rapp said. "Keeping an open mind and then from there making educated decisions. You want to take the emotion out of it because we act differently and speak differently when we are emotional."
Rapp said communication is about understanding people not getting them to agree with you.
"You want to take the emotion out of it because we act differently and speak differently when we are emotional," Rapp said.