San Diego State University has one of the biggest global education opportunities in the nation, with hundreds of programs in over 50 countries. Dr. Erin Riley, a professor in the anthropology department, is one of many faculty members who works to expand these opportunities for both graduate and undergraduate students. 
Riley traveled abroad to Indonesia this past summer with three of her undergraduate students to gain firsthand experience with primates of the region. Riley plans to continue this global program over the next three summers, and is looking for applicants. 
This program is known as 'People, primates, and tropical forests: Integrated primatological and ecological research to advance human-primate coexist existence and ecosystem health in Indonesia.' 
In Sulawesi, an island in central Indonesia, Riley and her students studied the behavior of the moor macaque monkeys, and how their growing interactions with humans can affect their health. The way animals and humans interact with one another is at the forefront of Riley's studies, and is much of what her students focused on during their last trip.
"There is a major throughway that crosses through the national park, and it's been there for a long time, it's not something new," Riley said. "What's new is that these monkeys, the moor macaque, have been spending… more and more time on the road."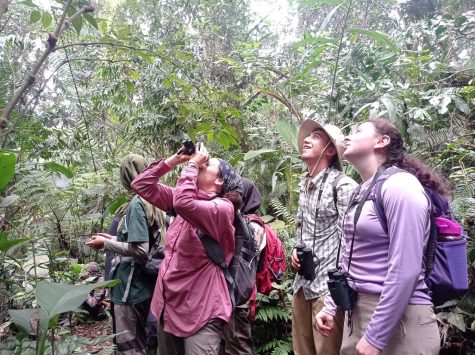 The moor macaque are spending so much time on the road because people have taken notice of them and have begun to feed them. However, human food is poor for their health, and their increased presence on the road can lead to injuries. Riley and her team worked to study the nature of this interface in order to understand both the human and primate perspective in the situation, and learn how to manage it. 
Riley and her team also visited the island of Java, Indonesia, where the students went to the Gunung Halimun Salak National Park to study the endangered Javan gibbon and collect data on their health. There, they also attended a symposium on women in primatology, where Riley was asked to speak by one of her colleagues.
The group also got the opportunity to participate in a women's empowerment initiative to connect with women in Indonesia. 
"Many of the initiatives that conservationists are trying to advance is making sure that all sections of the community are impacted. Oftentimes the men in the village may be hired as field assistants to go into the forest, and that's great, but that only benefits them. How do women get benefitted?" Riley said. 
Though primatology is a female-dominated field, there is still room for progress regarding the equality of opportunity in these areas of Indonesia. Riley strives to extend the studies to Indonesian students and project partners as well, making sure they are immersed in the research of their own environments. The animals and primates are a part of life in Indonesia, and often interact with all of its inhabitants, and Riley argues that they should be studied as such. 
Riley has been given the chance to continue these studies, as well as work directly with the National Science Foundation. For future trips, she has received grants from NSF through its program called International Research Experiences for Students (IRES). 
According to the National Science Foundation, IRES, "supports international research and research-related activities for U.S. science and engineering students" and "contributes to development of a diverse, globally engaged workforce with world-class skills." They provide the necessary funding for the trip, as well as the opportunity to work closely with researchers from the area.
During Riley's three year program all associated expenses will be covered, such as travel costs, food, etc. Furthermore, students will also receive a weekly stipend to substitute their prior incomes and help pay for bills and other personal expenses. 
This funding, however, was not simply handed to Riley. She has been bringing students on research trips with her for almost 15 years, and only just started to get outside funding in 2016. 
The future for Riley and her global endeavors and opportunities is a bright one, and she highly encourages students to apply for the 6-week Summer 2023 trip.