Closing out the year, Jinjer played to a packed house on Dec. 23 at the House of Blues in San Diego. 
The four-person Ukrainian progressive metal band with roots in hardcore and groove metal, ended a challenging year by headlining a tour with the iconic San Diego band P.O.D. and another emerging Ukrainian metal band, Space of Variations.
Even though the war in their home country of Ukraine has been tragic, the metalcore band Space of Variations, opened the show by locking into their opening set to support the release of their new "Imago" album, which came out in September via Napalm Records.
The unstoppable four-piece won over the crowd at House of Blues with a modern sound that was exciting and full of energy. 
They played eight songs from both their self-titled album and their new one, including "Tibet," "Someone Else," "Imago," "Non-Human Club 2.0," and "Face to Face," which gave the crowd a taste of what was to come from the Ukrainian band.
Dima Kozhuhar, the singer for Space of Variations, spoke to the crowd about the reality of the war back home and how his friends are dying for freedom, the right to choose and progress in a particular part of the world.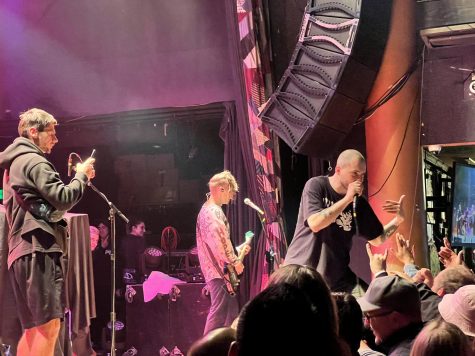 "This war has taught me a few simple things," Kozhuhar said. "First, there will never be a better time than right now, and second, nothing is more important than your family and loved ones."
P.O.D., the well-known Grammy-nominated San Diego band, performed as a support act at the show. 
They have been bringing audiences together with a mix of hard rock, hip-hop, reggae, and alternative music since 1992, with a message of unity and a solid promise to keep going, according to P.O.D.'s website.
P.O.D.'s setlist was a potent mix of their hit singles, beginning with "Boom" and later on "Youth of the Nation," "Alive," "Southtown" and "Satellite."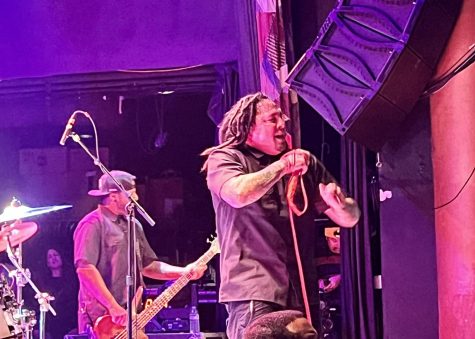 Jinjer, the main act, formed in 2010 with the addition of vocalist Tatiana Shmayluk. The band was named Ukraine's best metal band in 2013, and has been on an upward run ever since, according to IDL Entertainment's website. 
This was their second headlining show post-COVID-19 in San Diego since 2021's tour stop at Soma SD.
They played in front of a packed house with an impressive video board and lighting show. They started with "Sit Stay Rollover" from their album "King of Everything."
Next on their setlist was "Teacher, Teacher" from their "Micro" E.P. and "Copycat" from their most recent album, "Wallflowers," which was released in 2021 via Napalm Records. 
With every song and vocal riff, vocalist Tatiana Shmayluk kept the crowd under control. 
The setlist also included "I Speak Astronomy," "As I Boil Ice," "Judgement," "Dead Hands Feel No Pain," and "Vortex" as a medley run, with a few breaks for Shmayluk to talk to the crowd.
Jinjer's musicality shone throughout the show especially when they included melodic runs towards the end of the setlist with "Perennial" and "Pisces," in addition to heavy songs like "Call Me a Symbol."
Before ending the night with "On the Top" from their album "Macro," Shmayluk took a moment to thank the audience and say that it was good to see everyone safe and sound.
"This is the end of the tour, and we're very lucky to end it here in San Diego," Shmayluk said. "We want to thank you for all the support you've given to Ukraine."
"We want to tell the whole world with this next song that we want our home back," Shmayluk said.
For more on Jinjer, P.O.D., and Space of Variations upcoming new releases and future gigs, visit @jinjer_official, @pod, and @spaceofvariations_band on Instagram, Apple Music and Spotify.