From A to Zett: The musical journey of Tristen Zett
Local musician Tristen Zett shares his strategies for building up a music career from ground zero
Nobody starts life with a singular idea of what an ideal future might look like. Few people tend to start college with that idea either, and anyone who does will likely find that getting a grip on the future takes no small amount of dedication. 
San Diego State University is home to a number of dedicated individuals, and one such student is Tristen Zett, a senior communications major who stumbled upon a passion for producing hip-hop.
"When I was a freshman and sitting in health class, my friend showed me a song that her boyfriend made, and I was like, 'This is so trash. Even I could do better than this,'" Zett said. "So, I went out and made a song that was better than it… and pretty soon I was really into music. Pretty soon, it became real."
Zett's accidental introduction to song-making encouraged him to continue making music, but his initial attempts at actually mixing songs were not so encouraging.
"I had no idea what I was doing and it was absolute witchcraft," Zett said.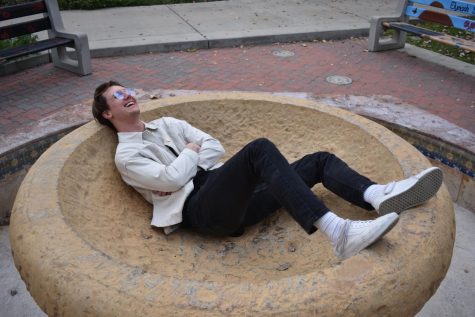 Zett, however, refused to let his inexperience deter him from pursuing his new passion. He recognized that in order to break down the daunting barrier to entry facing him as a new musician, he would have to dedicate a lot of time to hone the craft. 
Now that Zett has a solid grasp on the music making process, his personal sound has come a long way.
"(My music) is a fairly pop-based form of rap," Zett said. "Not as in Lil Nas X pop, but it's upbeat. I'm not a very brooding kind of guy."
Zett's early dedication to music making has fostered a practical and meticulous songwriting process.
"I always start out with a finished beat… and then, honestly, I sit away from it for a while — a couple of weeks, a month, whatever — and then, that allows me the time to cleanse and come back to it in a writer's space," Zett said.
As Zett continues to perfect his process, his discography keeps expanding and improving. 
At the moment, Zett's favorite original song is a single titled "Better Alone," which he dropped on April 15, 2022.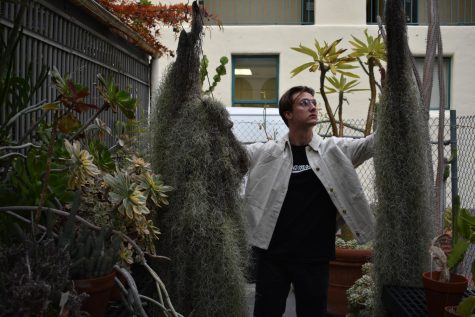 "('Better Alone') is the most fun to do live because it has the bounciest beat," Zett said. "That's one of my samples I'm most proud of. It has a really great music video attached to it with Elijah Garcia out in Corona, California. We've done three music videos together, and each one has been better than the last."
While Zett's own production process is a personal affair, collaborative processes such as the "Better Alone" music video fan the flames of his creativity. Working with other artists has proven to be an astronomical factor in Zett's career, especially through Aztec Music Group.
"I want to say joining Aztec Music Group is overall the best thing I did in college," Zett said. "I think a big part of the balance (is) fighting the burnout and reigniting that fire is keeping yourself surrounded with people who want to do the same."
Zett often collaborates with his friend Jaime Martinez, another musician and member of Aztec Music Group. Martinez describes collaborating with Zett as "a very fun process."
"I'll play through and give him the basic guitar he asked for and then we listen back," Martinez said. "I'll start noodling and he'll press record and I'm like, 'Okay, solo time,' and we will loop the section until we find something we like. The entire time he's incredibly supportive."
Aztec Music Group has also granted Zett a number of opportunities to perform. His energetic Basement Beats performance stood out among Zett's fondest memories as a performer.
"Basement Beats was the first time I ever performed with a backing band and it was the most fun experience," Zett said. "It's just not comparable. You have other people to feed off of. You can change plans and tempos, introduce changes on the fly — I desperately want to move more into that."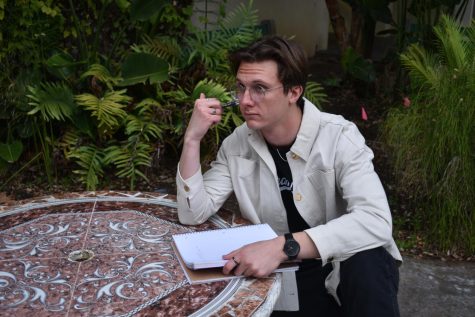 Sam Macarah, who played bass for Zett during his Basement Beats set, also had a wonderful experience working on the project. Macarah owes much of his enjoyment to Zett's attitude toward collaboration.
"I've played with many different bands and artists but I think (Zett) is the most passionate artist I've played with," Macarah said. "Anytime he needs a bass line recorded, I am always happy to work one out with him."
Zett's rigorous work ethic has earned him the respect of the music community at SDSU, and he serves as a shining example of the value of passion and persistence. 
With an electric stage presence and an ear for pleasing melodies, Zett's work has certainly paid off, and he has what it takes to get recognized in San Diego.