Street vendor supporters came together in a vendor buyout to support hot dog seller Jose Andres Arguelles-Alvarez, who was harassed by several women at San Diego State University outside of Viejas Arena last month. 
The vendor buyout, hosted by Chrome Lady and Lavish Tattoo parlor located by College Ave., did not hesitate to put together this event in support of Arguelles-Alvarez on Feb. 19. 
"I am from a car club from my neighborhood and they reached out and said that they needed a location and immediately, it was a first instinct to make it happen, " said California Ames, owner of Chrome Lady and Lavish Tattoo. 
The event was originally scheduled at 3:30 p.m, but the community showed up two hours earlier despite the cold weather and rain. 
"This is what I expected (community response) when we put out the word that we needed to step up to the plate for Andres," Ames said.
The community that supports street vendors felt connected to Arguelles-Alvarez and with what he went through.They expressed solidarity by banding together to turn this incident around and make the best of a negative situation.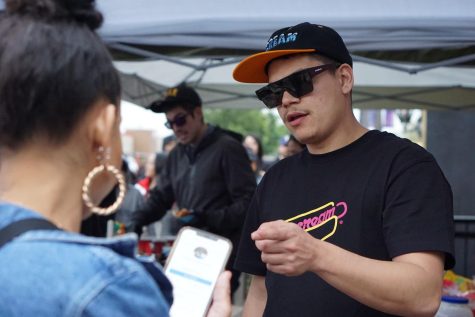 "It's important that we come together in community and solidarity to show that we are with the people and that we make a statement that what happened was wrong," Brittany Williams, a street vendor supporter, said. "I think it's powerful that people see this, how many people are here. How powerful it is when culture and community come together." 
Street vendor Eddica Lopez applauded Arguelles-Alvarez's handling of the situation and expressed anger to the women who harassed him. 
"How is someone going to come and disrespect someone trying to make money? We are all just trying to make a living and provide amazing food for people," Lopez said. "It is embarrassing as a human race for (the women) to act like that." 
During the event, the community stood against hate not only for Arguelles-Alvarez, but for all street vendors. 
"It isn't right for these girls..these children actually.. to be harassing vendors who are making their living," Adrian Bravo, an SDSU student, said. "Attacks on street vendors have been going on for the longest, and this one really hit close home to me."
Arguelles-Alvarez expressed not only gratitude, but also happiness for the support provided by the community. 
"I feel very happy, thank you for all the support, thank you to those who came for me and for my business," Arguelles-Alvarez said in Spanish.