After seven years on YouTube and a viral video on Twitter, Tiffany Day began her first North American headline tour, "The Gratitude Tour," on the Voodoo Room stage in San Diego. 
Day welcomed fellow artist Alex Porat as her opening act. The 25-year-old Canadian singer opened the concert and tour with high energy and endless support from the audience. It was Porat's first time in San Diego and although there were nerves at the start, she powered through with encouragement from her and Day's fans.
Porat performed a variety of songs from slow melancholy ballads like "miss sick world," to high-energy anthems like her 2023 single, "HATELOVE." 
"The crowd is so welcoming. It's the first show of the tour, so I didn't know what to expect. But knowing Tiff, I just knew that her fans would be so welcoming and fun," Porat said. "Honestly, I was like, 'Oh my God. Are they screaming at me?'"
After Porat's set, the audience waited in anticipation for Day to take the stage. As the lights went dark, the audience's energy and excitement rose through the roof.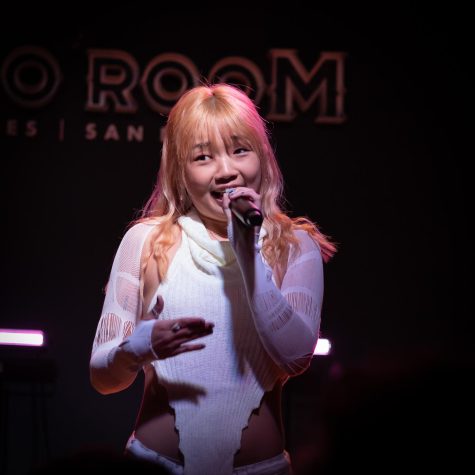 The intro to "DREAMS ABT OPTIMISM," started shortly before the lights began to flash. The audience cheered, unable to contain their excitement. As Day entered the stage, she was welcomed with screams of joy and love.
Being 23 years old, Day connects to her audience through her relatable lyrics and themes.
"Fun story, my brother actually used to be her (Day) roommate, so I've known her as a family friend sort of thing. So I started listening to her from that," Sadie Moore, a first-year San Diego State University marketing major, said. 
"I can relate to her music a lot just because, first of all, it makes me feel relaxed and happy, but also the lines that she uses are very relatable to my generation because she's also in our generation. Early 20s and 19-year-olds have the same issues: boy problems. Stuff like that," Moore said.
Moore's roommate, Noelle Daunch, a first-year SDSU graphic design major, also enjoys Day's music and believes that her music is unique because of its relatability and comment on young adult experiences.
Day made her musical debut in 2015 by posting a cover of "Breakeven" by The Script on YouTube. She continued posting vlogs, covers and original songs. Day went viral in 2017 via a Twitter video of her singing "Hallelujah" into an Italian well.
"I found her on YouTube, I used to watch her vlogs and I found out she was the girl that sang in the iconic well video," said Grace Chun, a junior studying business psychology and Asian American and Pacific Islanders (AAPI) Studies at the University of California, San Diego. 
"I think it's just really cool to hear about someone my age who's so successful and so loved, and is also a symbol of Asianness — it's really good representation. But she's not pushing it like, 'I should be successful because I'm Asian American,' she's just super cool and happens to be Asian," Chun continued.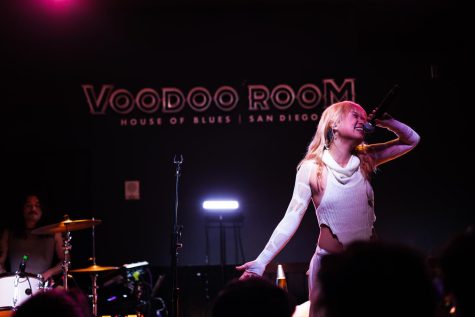 Throughout the entire show, the audience showed the artists endless support. From singing along to every song to cheering when Porat drank water and expressing their love for the band member, the audience's love was never lacking.
Day continued the concert by saying "Anxiety, f— that s—, let's just dance," which led to enthusiastic dancing and jumping around from both Day and the audience. Both never failed to match each other's energy and hype each other up. 
Day showcased a multitude of talents on stage. The 23-year-old is a self-taught guitarist and highlighted her talents during the show. She is also a talented DJ and incorporated EDM and dubstep segments into her show, even doing a dubstep mix of an unreleased song.
Love and positive vibes were flowing throughout the entire night all the way through the end. 
"I wanna do one thing in my life and that is to spread love and to spread empathy. And it feels like I've done it, kind of," Day said. 
The artist ended her set with her number one single "IF I DON'T TEXT YOU FIRST." Day kept it real with her audience joking about how she did not prepare a speech for that song. The audience, however, knew every word and carried the intro of the song with Day joining on the bridge. 
As the concert came to a close, the audience was amped up and chanting "encore!" 
Day returned to the stage to grant their wishes with "SAN FRANCISCO SIDEWALK," the lead single from her 2023 EP "THE GRATITUDE PROJECT." The audience sang and danced along through the song and out the door as the concert came to a final close.
Day is continuing "The Gratitude Tour," through April 5.